Call of Duty Warzone is getting its biggest tournament to date. The Call of Duty Warzone Royal Ruckus will be a huge event in the Battle Royale game, held over one weekend with some of the biggest players in the world. The event is being run to money for charity, but it is a nice taste of the upcoming competitive Warzone action that is coming. This is a charity tournament with a $150,000 prize pool to support the Equal Justice Initiative.
Wall of Duty Warzone Royale Ruckus is going to be a two-day event. While Warzone is relatively new, it's become really popular. This is with general players, but also big names in Esports. Players of a lot of different games are moving over to Warzone. This latest event will bring together the biggest players in Call of Duty.
Who Is Playing in the Warzone Royale Ruckus?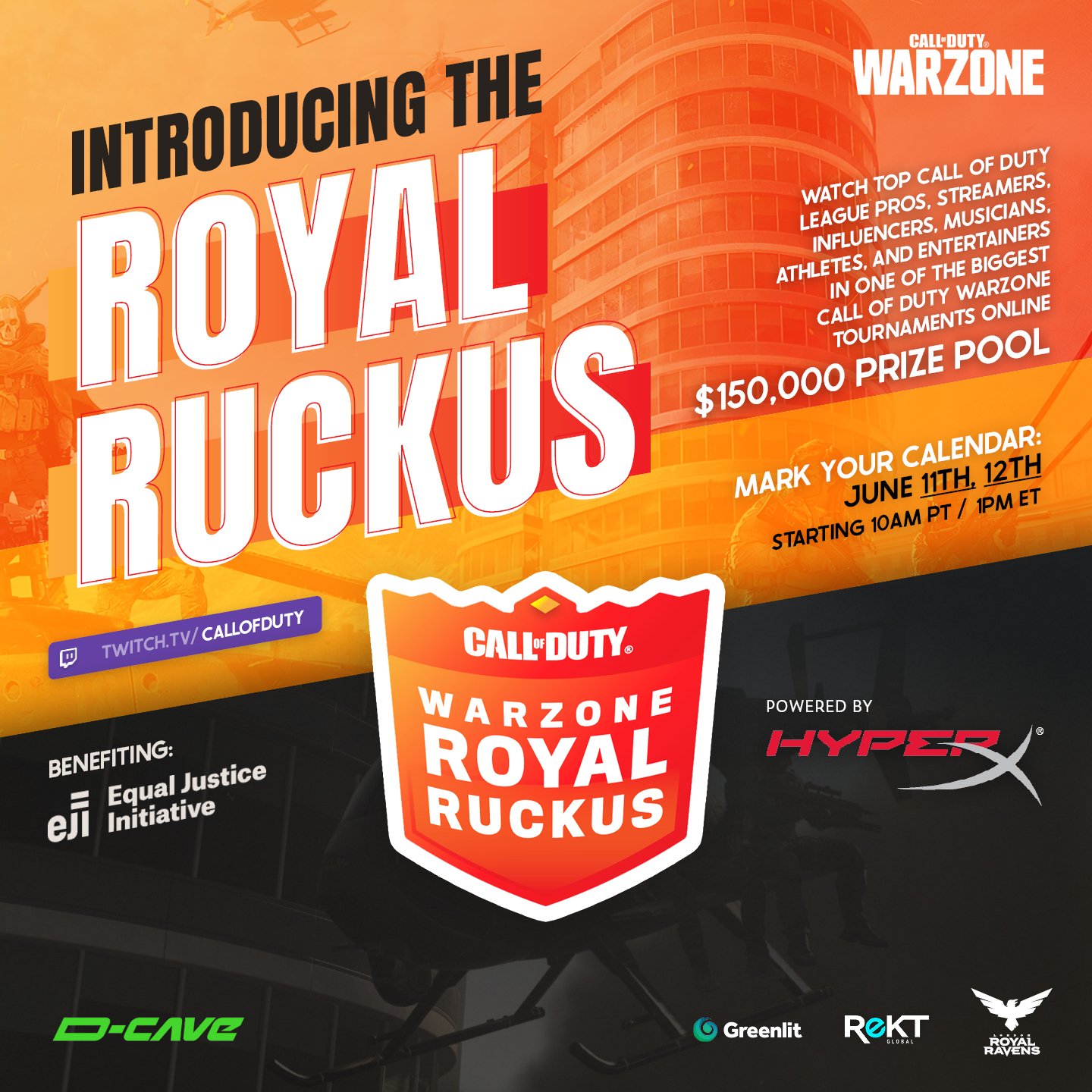 The Warzone Royal Ruckus is going to have some great competitive action, but it is all to bring in some money for a charitable cause. This is reflected in its line-up, which is a mixture of high tier pros and for some reason normal athletes! This isn't the first time the two worlds have crossed over though, the Fortnite passion of athletes has long been documented. Will they be able to give the top Call of Duty Warzone players a run for their money? Probably not, but there's always a chance.
These are some of the players due to take part in the Warzone Royal Ruckus:
Wuskin – London Royale Ravens.
Skrapz – London Royal Ravens.
Tfue – Stramer and Pro Player.
SypherPK – Pro player and streamer.
Huskers – Pro Player
DaisyMichelle – YouTuber
Tommey – Player for Team Envy
NICKMERCS – Pro player
These are some of the biggest names in Warzone, with Tfue, SypherPK, and NICKMERCS are definitely ones to watch throughout the event.
How Will the Warzone Royale Ruckus Work?
The Warzone Royal Ruckus is going to be one of the biggest Warzone tournaments so far. Since the game is still relatively new, formats are still under discussion a bit.
The format and scoring in this event are going to somewhat formula the formula set by the KeemStar Warzone Wednesdays. So far, these are some of the biggest Warzone tournaments around. As the game progresses from fan and community-organized tournaments to more official events, we'll likely see more organized scoring develop. At the moment, things like this are being played in open public lobbies.
Rules and Scoring
Games are going to be played on public servers, racing to a certain number of kills. With different rules each day.
There will 50 teams from the beginning, each consisting of three players. The top 8 players move on to the bracket stage. You get points per kill, but also a 5-point bonus in every game that you win
Day 1: On day one, all 50 teams are going to play. They drop into a public lobby and have a four-hour period to play. They take the top 5 games into consideration over this time period.
Day 2: This is going to work the same as day one, but only the top 3 games over a 2-hour period are being considered. The top 8 teams from both days then move forward.
Finals: In the finals, the scores are reset. The teams are put into a single game head to head, elimination bracket.
Teams race for kills in a single game, with the winner going forward. The bracket will whittle the teams down to quarter-finals, semi-finals, and eventually one team against one team in the final.
That's how the points are going to check out. It is probably safe to say most pro players will make it into that final bracket though.
What's The Prize Pool for the Warzone Royal Ruckus?
The Warzone Royal Ruckus is going to have a $150,000 prize pool! $100,000 of this is going to charity, but the remaining $50,000 is going to split up around the winners and final teams.
Where Can You Watch the Warzone Royale Ruckus Tournament?
You can watch the Warzone Royal Ruckus tournament on Twitch, it will be mainly running on the Call of Duty Twitch Channel. However, you can also check in on the SypherPK or Tfue channels, or any of the other pros playing as they will likely be streaming their own side of the event!
What's Next for Competitive Warzone?
Warzone is a relatively new game, but it has picked up a lot of speed. Its competitive scene is growing fast too. This charity event will be a fun one-off, but there are big things happening for Warzone Esports. Warzone currently has a big number of community tournaments running. On top of this, there are smaller official events that are leading up to a bigger launch that is coming soon. You can expect to see a lot more events from the Call of Duty league in the future.
Other Helpful Articles: