Each character in Apex Legends has a completely different skillset. Once you're familiar with the basics of the game and have learned a little more about the map and handling firefights, then you need to pick a legend to focus on. It won't always be possible to play as the exact legend you want to every time. However, you should at least focus on a few legends. By specifying your practice to just one or two Legends, you can really master their abilities and styles of play to ensure you're a real asset to your team. Mirage is a Legend that can either be really useful, or weird and irrelevant. It all depends on how well the player knows the character.
A good Mirage player can use this Legend to confuse and disorientate their opponents. By using his baffling distraction tactics, this legend can make sure that they come out on top. He is difficult to master though. He has unconventional abilities. This makes him something of an acquired taste, and you will need to adjust your play style to suit these diversion tactics. His abilities will seem like pointless party tricks in the hands of unskilled players. With a skilled player using Mirage, he can gaslight his opponents with his reality tricks. This can help your team be the last one standing and let you start to win as Mirage.
Mirage's Passive Ability – Encore!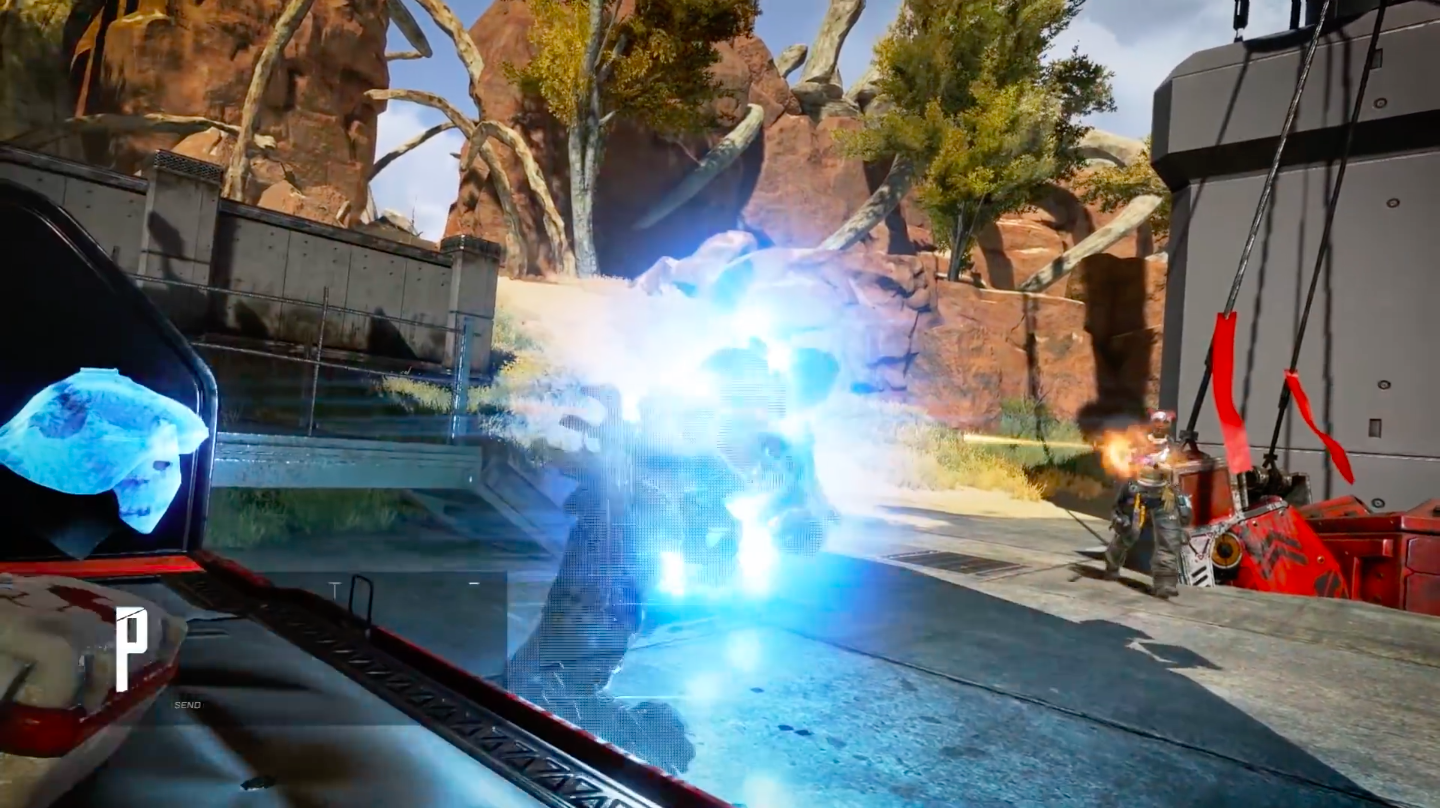 "Encore!" is the full name of this ability, which includes that exclamation mark. The first step to being a good Mirage player is always referring to his passive ability with an exclamation mark at the end. This ability has a novelty name because it is kind of a novelty.
What you will see as you look through different character's abilities is an occasionally messy approach to balancing. Some Legends have particularly strong Ultimate or Passive Abilities, and then the other ability is a bit lacking. Mirage's Passive Ability pays the price for his other abilities, it's essentially a watered down version of his other two more useful powers. This ability will automatically drop a decoy of Mirage and cloak you for five seconds when you're knocked down. It happens automatically, so it can become easy to rely on if you're regularly playing as this Legend.
The decoy will distract your opponents for as long as you're cloaked. If you use this smartly, this should give you the window that you need to escape from your attacker every time. This passive ability is best combined with strong healers like Lifeline. Crawl away as fast as possible after being knocked down. If you're in the right place, this passive ability can save you. If you're still isolated, then five seconds might not be long enough. Like most passive abilities, it isn't fantastic. However, those five seconds are a lot longer than other Legends get.
Mirage's Tactical Ability – Psyche Out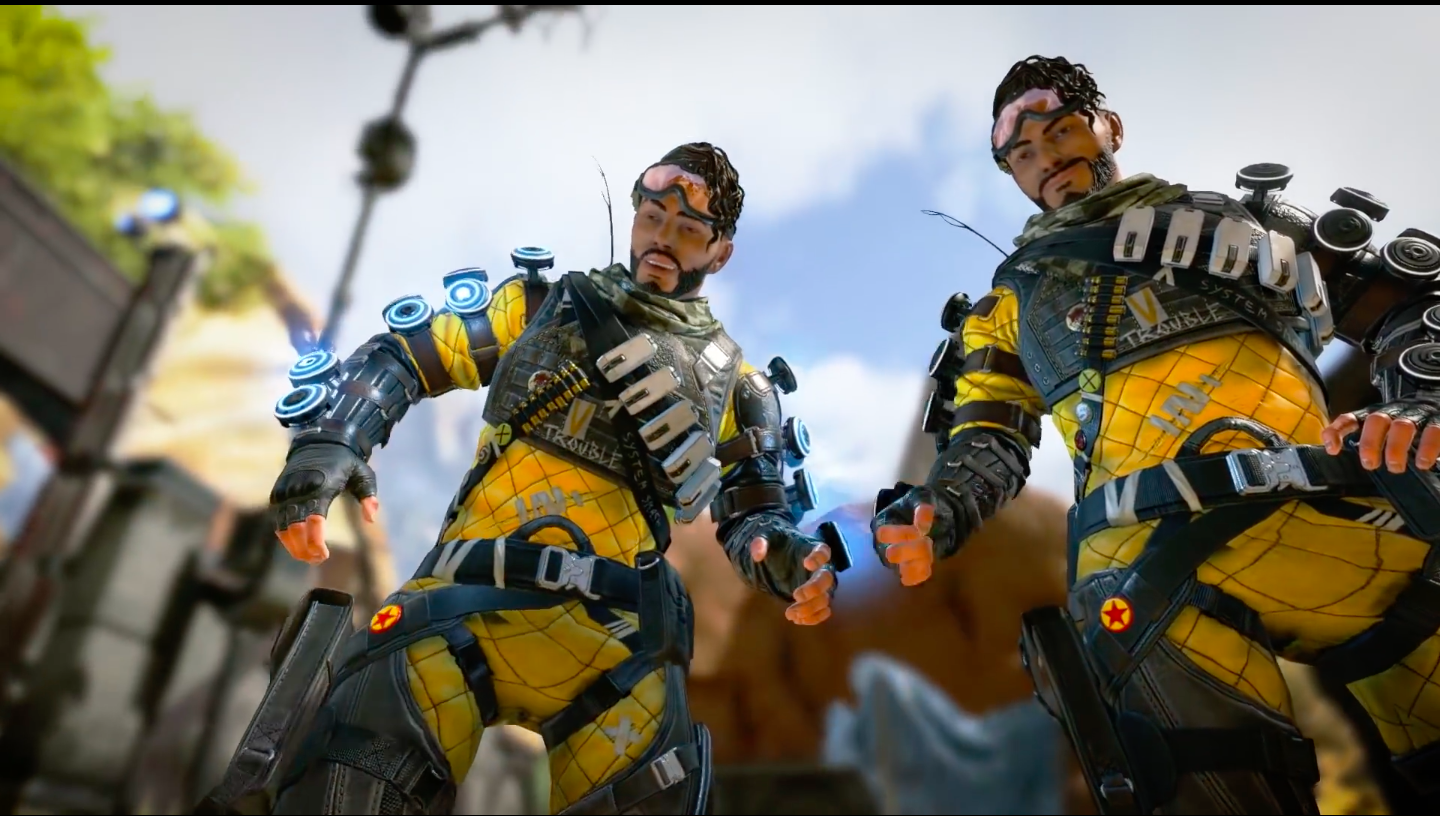 Mirage's Tactical Ability is Psyche Out; it is a lot of fun to use but it can also give you a real tactical advantage when utilized properly. It's one of the abilities in the game with the best capacity for irritating other players. Worth bearing in mind if you're the kind of Apex squad that this is important for. This ability will send out a holographic decoy of Mirage. It will quickly move in whichever direction you were aiming when you let it go, so ensure you're correctly lined up.
This hologram is more active than the one given to you by Encore! Because of this, you will want to think it through before using it. It can be used to distract enemies for an escape or to heal, but it can also be used as a decoy to get enemies into a position for an easy kill. If you're cautious about entering an area, sending out a decoy ahead of you will draw out any enemies and let you know their positions. With this information, you can then take a position with a tactical advantage to this team and eliminate them.
You can send this decoy towards loot left behind by a dead enemy to trick players into thinking it is being raided. This should draw out anyone who was waiting around to catch easy prey. In any situation where you need to draw the fire of another team, Psyche Out will distract them. This should give you time to take them out. You should get at least one elimination every time you use Psyche out. It can also give you an easy escape from any sort of danger, master this properly and you should start to win as Mirage.
Ultimate Ability – Vanishing Act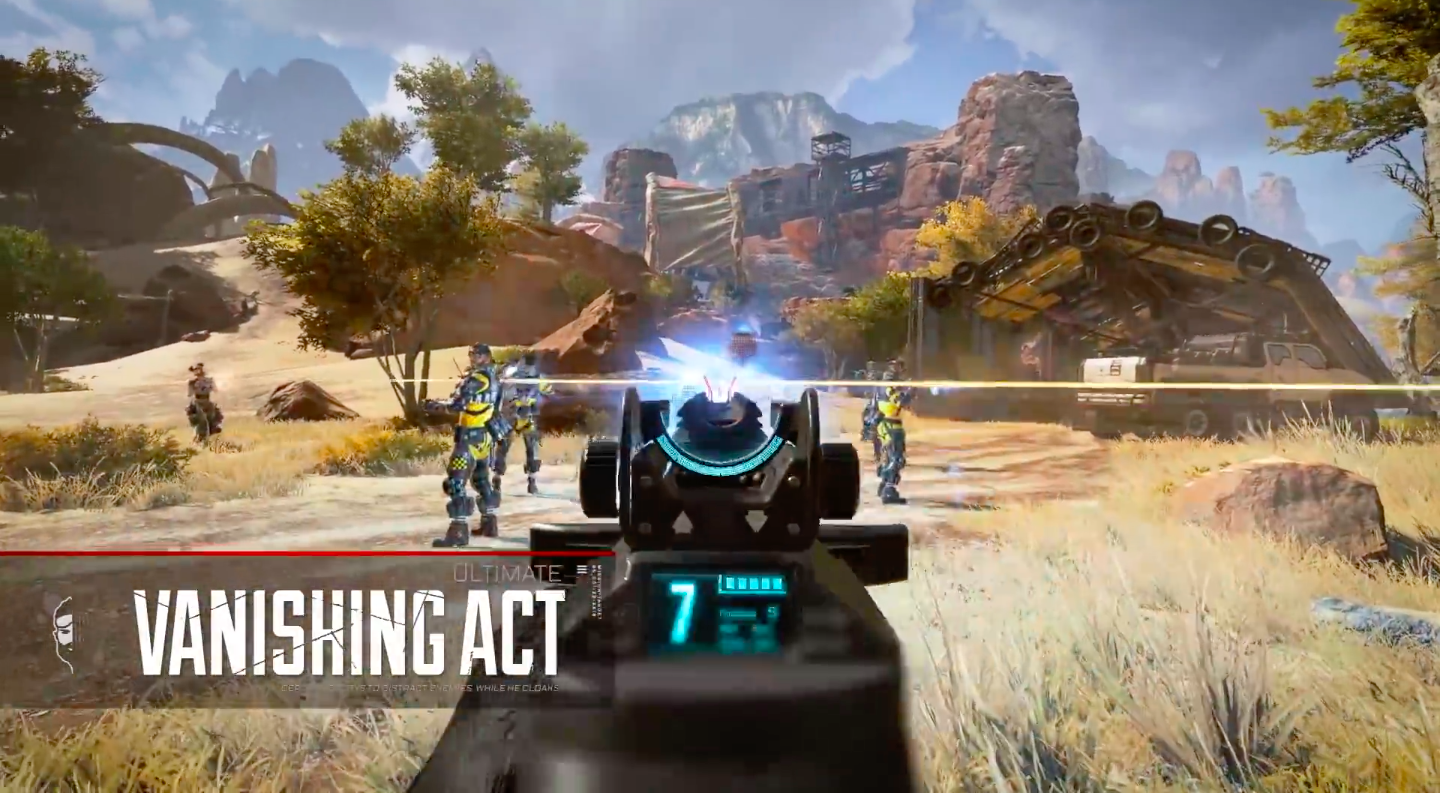 Mirage's Ultimate Ability is Vanishing Act. Like a lot of other Legend's Ultimate Abilities, it's a natural final step in the trend set by the others. This one sends out an entire team of decoys. Between all of these distractions, enemy teams will have a hard time even figuring out what is going on, let alone focusing for long enough to eliminate you. This Ultimate Ability also gives you a cloak. You aren't made entirely invisible, but most enemies will have a hard time spotting you.
Vanishing Act's main purpose is to escape. No matter how bad the situation you're in, using Vanishing Act is nearly guaranteed to get you out of it. Be sure that you make the most of it and run as fast as possible to your teammates or to cover. In these scenarios, it's good to have a teammate quick with revives. Alternatively, someone skilled at firefights to finish the enemies off while distracted. These decoys should distract most players. Your silhouette is still slightly visible while cloaked but most players won't be able to see this in the midst of a firefight.
It can also be used offensively as a distraction and annoyance tactic. A team of decoys descending on an enemy team is usually enough to send them into a complete panic. You can then use your cloaked form to get to some high ground and prepare yourself to take out the entire team.
Conclusion
Mirage specializes in causing absolute chaos. If you master his abilities you should be able to escape from any situation, annoy or confuse enemy teams, and take control of firefights through your diversion tactics. Mirage can be a wonderful asset to any team in the right hands.