Call of Duty Black Ops Cold War has finally released on all platforms With all of the modes, loadouts, and weapons on offer, Cold War is one of the fullest Call of Duty packages so far. As a competitive shooter though, most players are going to be looking for whatever they can get to get ahead. That's where using the best Cold War PC settings comes in. The game opens up without the best settings fully turned on. If you take the time to fix this, you'll get better visibility and a much better frames per second rate in Cold War.
There are a lot of different modes and options in Cold War. However, for most players it really just comes down to the multiplayer. This is the main event. When you're playing the multiplayer, a lot of things from the game dictate how well you can perform. This includes things like your loadout, but also how well the game is running and performing. Cold War can be a demanding game at full speed. You'll want to be using specific settings in the multiplayer to get every advantage you can get. Even if you then dial things back up for a better experience in the campaign.
This guide covers the best Black Ops Cold War PC settings. These settings are going to be able to help you get a much better frames per second and performance, even out of a low-end PC. Although, you still need to hit the minimum requirements. A high-end PC can really push things running these settings and theycan help all players get performance. This is what you need to know:
The Best Cold War PC Settings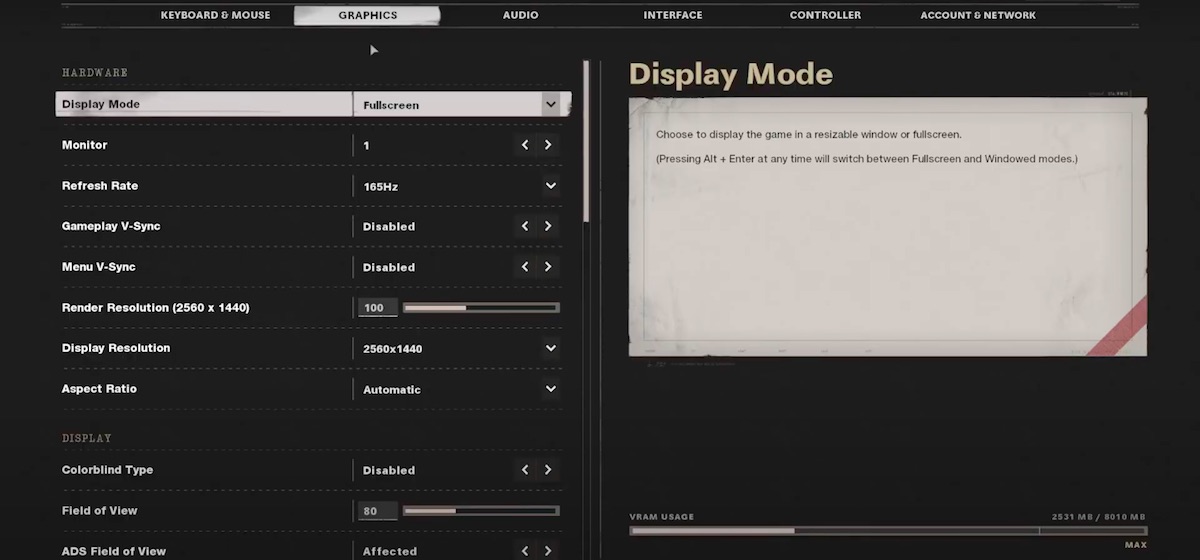 The best Cold War settings can make your game perform quite a bit better. There are a lot of options here though. So feel free to change some as you see fit. Although, there are a few that make a big difference for getting better performance out of the game.
The Best Cold War Settings – Sensitivities and Controls
Inside of Cold War, you'll find a lot of different options, even for something as simple as your keyboard and mouse. These vary a little bit in terms of which are the best Cold War settings.
Sensitivities are a difficult area if you're looking for the best settings since they're influenced a lot by the player. It is best for you to use a sensitivity that you're accustomed to. This will make your aim more natural and responsive. However, there are a few other recommendations to keep in mind when selecting a sensitivity.
The first is that lower is better. If you're paying with a mouse and keyboard, it is better to have to a low sensitivity and make big mouse movements to be more exact. Most pro players do it this way in their settings. There are a lot of options for sensitivities though. While you can change a lot of things up for sensitivities, these are some recommendations for the best Cold War PC settings:
Sensitivity – 9.
ADS Mouse Sensitivity – 0.7-0.9
Mouse Acceleration – 0.
Vertical Sensitivity Multiplier – 1.00
Mouse Smoothing – Disabled. This can be a pretty bad thing.
Mouse Filtering – 0.
Since sensitivities are quite flexible to how you personally play, our full guide to finding the perfect sensitivity here covers how you can find the right setting for you in every game.
The Best Cold War PC Settings – Graphics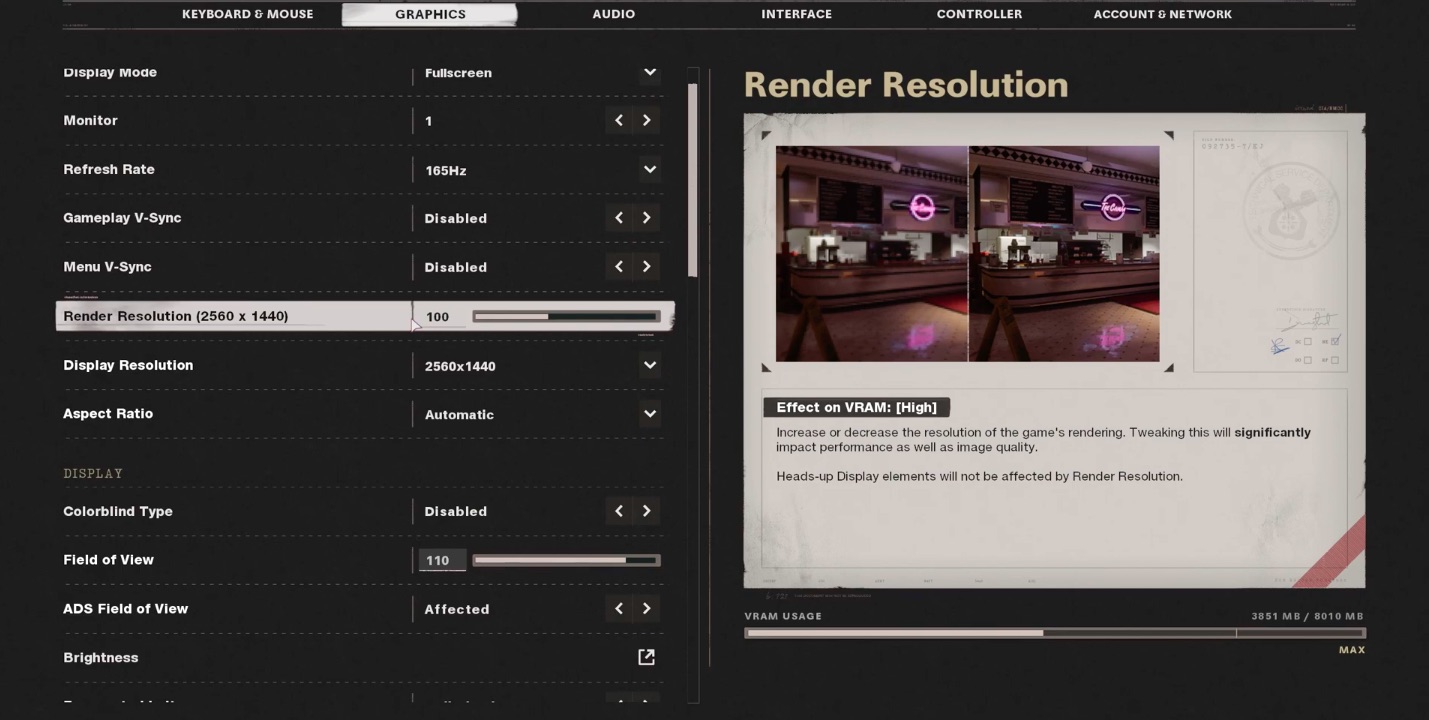 When you're changing up your settings, the graphics options are actually the most important. These have the biggest impact on the way that the game plays and how it handles. Really high graphic settings makes the game more taxing and it will result in a much lower frames per second. Turning everything off or all the way down however might interfere with visibility. These are some recommendations for a good balance:
Display Mode – Fullscreen
Refresh Rate – That of your monitor
V-Sync – Off.
Render Resolution – start at 100 and adjust depending on your performance.
NVIDIA Reflex Low Latency – Enabled.
Resolution – The same as your monitor
Aspect Ratio – To match your monitor.
Field of View – This is a trickier one. Some players like to crank it up so they can see more, but this can be disorientating. On a smaller monitor, it is particularly difficult to use. So, higher gives you more visibility, but you need to be comfortable. Turn this up gradually until it becomes too much, then you'll find the best Cold War PC settings for you.
Frame Rate Limit – Unlimited
Texture Quality – Low to medium depending on your PC.
Model Quality – Medium.
Texture Filtering Quality – Low.
Monitor Quality – Low.
Special Effects Quality – Low.
View Distance – Medium.
Volumetric Lighting – Low.
Shadow Quality – Low.
Dynamic Shadows – Disabled.
Special Effect Shadows – Off.
Weapon Shadows – Off.
Ray Tracing – Ray Tracing has a few settings. It looks cool and everything, but this is a big drain on power so it is easiest to turn it off for multiplayer.
Anti-Aliasing Quality – Disabled. It isn't necessary.
Motion Blur – Disabled
Subsurface Scattering – Off
Order Independent Transparency – Off.
Those are the best Cold War settings for the graphics section. For performance, these are really the important ones. Things like shadows can be a particularly big drain on your frames per second.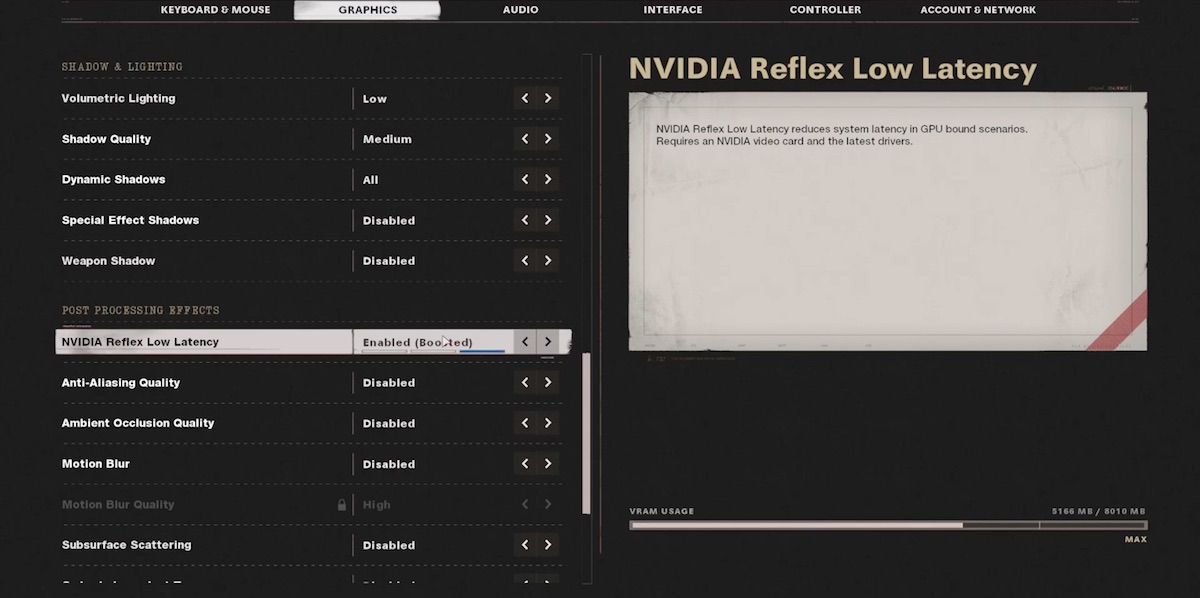 The Best Call of Duty Cold War Settings for Audio
Audio has been a surprisingly important factor in the game. You need to be looking out for audio cues and making sure you can hear what is going on in the game. These are some recommendations for the best Call of Duty Cold War PC settings in audio:
Master Volume – Set this to the highest and reduce or change your whole volume from here.
Music Volume – Low or off
Sound Effects Volume – This should be at a decent level.
Dialogue Volume – In multiplayer, this doesn't need to be too loud.
As a general rule of thumb for your audio, you want to hear the gameplay noises clearly. In this game, that includes things like footsteps which can actually be difficult to make out. It is best to wear headphones while playing to really make sure you're hearing everything, but turn down the louder noises that could provide cover for enemy movements.
Other Black Ops Cold War Settings
There are some other Call of Duty Cold War settings that you can change up like the interface and controllers on offer. However, these don't really offer any competitive advantage or disadvantage, so it is entirely up to you how you prefer these to be configured. Although one recommendation is to not have your interface too cluttered. If it is so big that it actually gets in the way of how you're playing then you need to make it smaller.
Steps Outside of Cold War to Improve Performance
While the internal settings in Cold War are important for performance,  there are a few things that you need to do outside of the game. These are some basic steps you can take to get a better performance, and increase your frames per second in game:
Energy Saving – Where possible, turn off energy saving and low performance modes to ensure your pc is running as well as possible.
Cut Down on Multi-tasking – Don't have any other demanding programs running at the same time.
Wired Connection – Use a wired internet connection rather than wi-fi. It can significantly cut down on LAG.
Drivers – Ensure all drivers are up to date.
CPU and GPU Settings – If you have access to settings for the GPU or CPU, ensure they're running at high capacity and turn off any energy savings options.
Those are some recommendations for the best Cold War PC settings. They can help you improve the way that your game runs, and make things more responsive for you. Our other guides to Call of Duty Black Ops Cold War can help you improve other areas of your gameplay too: