Valorant is a game with a rich variety of Agents available for you to play as. However, working with your team is really important here. This means that your choice of agent isn't just down to which you play best as or like the most. You have to pay attention to what the team composition is. Using the best team compositions in Valorant can help you achieve a lot more harmony between players. This can increase the power of your abilities. You can plan out plays to plant a spike that can work much better than just rushing in blindly.
As with Overwatch, team composition is really important in Valorant. As a player, you should aim to be proficient as a few different agents. This will give you the versatility that you need in matches. You can switch out characters to better suit the team composition that you're up against. This guide covers some of the best team compositions in Valorant. Since this is a newer game, the metagame and strategies are still developing. However, we can already see some really strong team compositions in the game. This is what you need to know.
The Best Valorant Agents for Every Team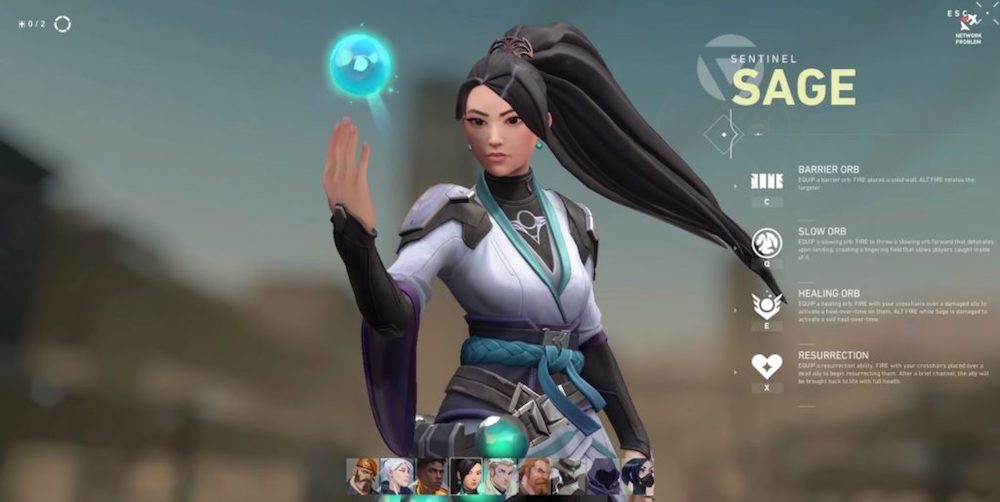 The first thing to think about with team composition is if there is any specific character that is too strong to leave out. At the moment, there is one completely essential character and a few that are pretty well regarded too:
Sage – Sage is the only Agent of her type. With Sage, you get near-constant heals on top of some pretty good abilities like resurrection. You need a Sage on your team. If you forgo one, you'll end up behind.
Brimstone – Brimstone isn't as completely essential as Sage. However, you'll see him pop up quite a bit in this list and in the game in general. He just stands above the comparable agents.
Cypher – Cypher is one of the most helpful agents out there, especially when being played skilfully. His amount of intel helping abilities can give you great information over the flow of the game. With a team that has good communication, this can give you a lot of wins.
These are Agents you'll see features on a lot of different Valorant team compositions. Sage is really the most important one though.
The Best Valorant Team Compositions
3. Sage, Brimstone, Cypher, Breach, and Raze – The Best Balanced Valorant Team Composition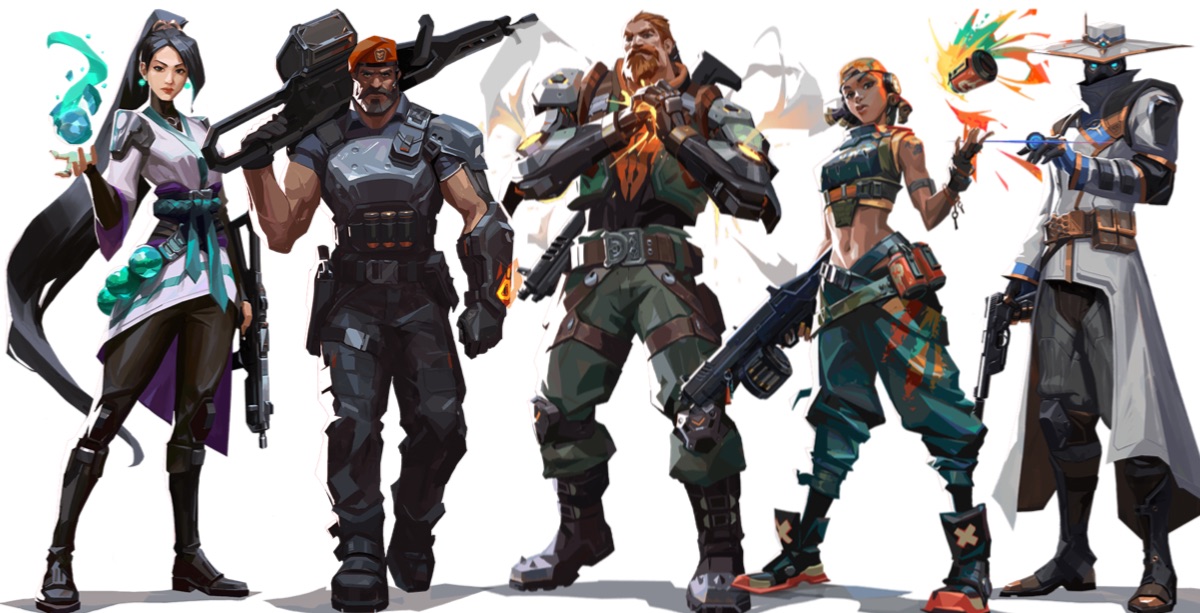 This is a pretty popular Valorant team composition at the moment. It is well balanced and allows you to combine the various agents to do big things. If you're looking for a Valorant team composition to try out without having to alter your playstyle too much, then this is a good starting point.
At the moment, Sage is too important to give up in a team because of her healing and blocking along with resurrection. She is nearly essential with her kit. Her inclusion doesn't need much more attention than this, you need to be able to heal.
The others add up really well though. Breach and Raze take care of the majority of the pushing in this composition. Breach can create the space that you need, teammates then push on through with better speed. With a Stim beacon in the mix, this usually goes quite well. While you're pushing forward, the flanks should be protected by trip wires or camera from Cypher. This gives you protection and allows the push to be concentrated in one spot. Putting this kind of pressure on a team without the possibility of being flanked is really effective.
Slow Orb can be combined with barriers when you're on the defensive. This can make moving forward a horrendous struggle for enemy teams. Out of this team composition, Raze is probably the least important. However, her abilities for damage can be really effective. Although you can switch her out for another preferred duellist without ruining the balance too much.
Raze is the least essential. However, her damage ability can really help your team composition out. She can be switched for another duellist, but Raze has great potential.
2. Sage, Brimstone, Sova, Phoenix, and Cypher – The Best Valorant Team Composition for Thought Out Plays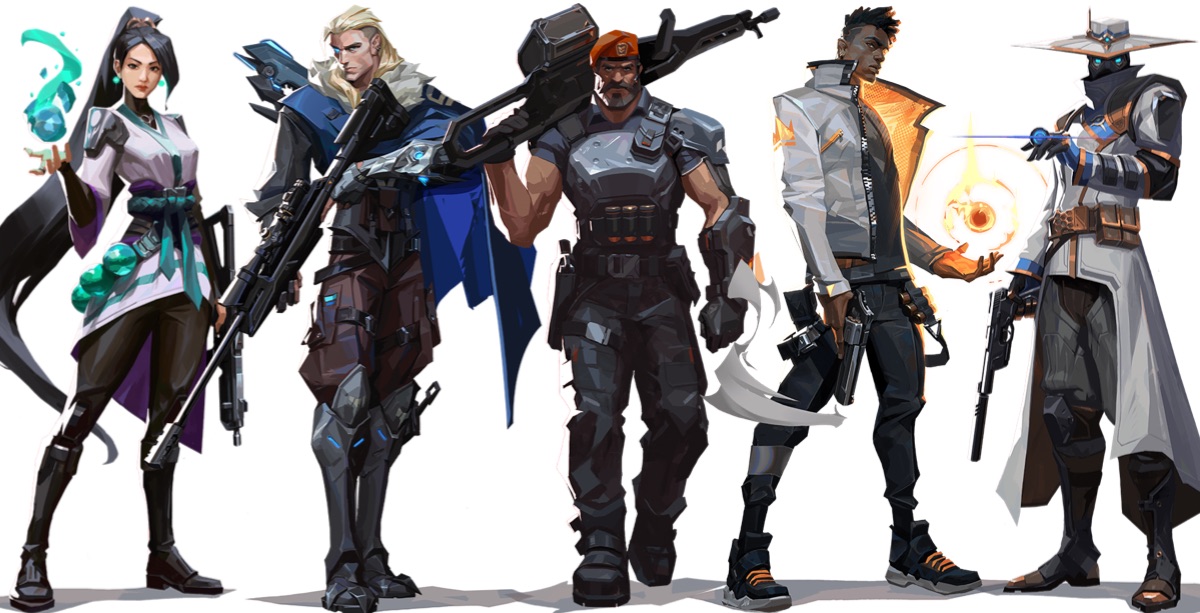 Intel matters a lot in Valorant. Getting good information on the location and movements of the enemy can make rounds considerably easier for you. Not enough teams pay attention to this. This is a team composition that is built for that. If you want to use it though, you need to be a specific kind of team. You need to have good communication. Intel is useless without that. This is the best Valorant team composition if you're a team that can communicate well and makes decisions based on the information you've gathered, rather than relying on the same strategies each time.
As with the last Valorant team composition, this one starts with Sage and Brimstone. They're here largely for the same reasons as in the previous composition. Where it becomes unique is with Sova and Cypher.
These two agents can help you get intel and control over the entire map. Tripwires and cameras should be coordinated with Sova's arrows. Collectively, you should be able to piece together a snapshot of the entire map with these abilities. Use this information to work out the adventurous position to take out the enemy team.
Phoenix is the last agent on this list and he'll be largely working in tandem with Brimstone. Phoenix is really where all of your damage is going to be done, so that player needs to know how to aim well in Valorant. With intel on enemy locations, they can push by peaking and flashing around corners. Dueling can be risky, but less so with the intel that other players can provide.
For a push, intel needs to be gathered, followed by brimstone beginning to push and secure spots. Phoenix moves in after since his frags are shorter range. This along with a drone for a distraction should allow you to take ground in a well-organized manner.
3. Sage, Phoenix, Raze, Omen, Breach – The Best Valorant Team Composition for Pushing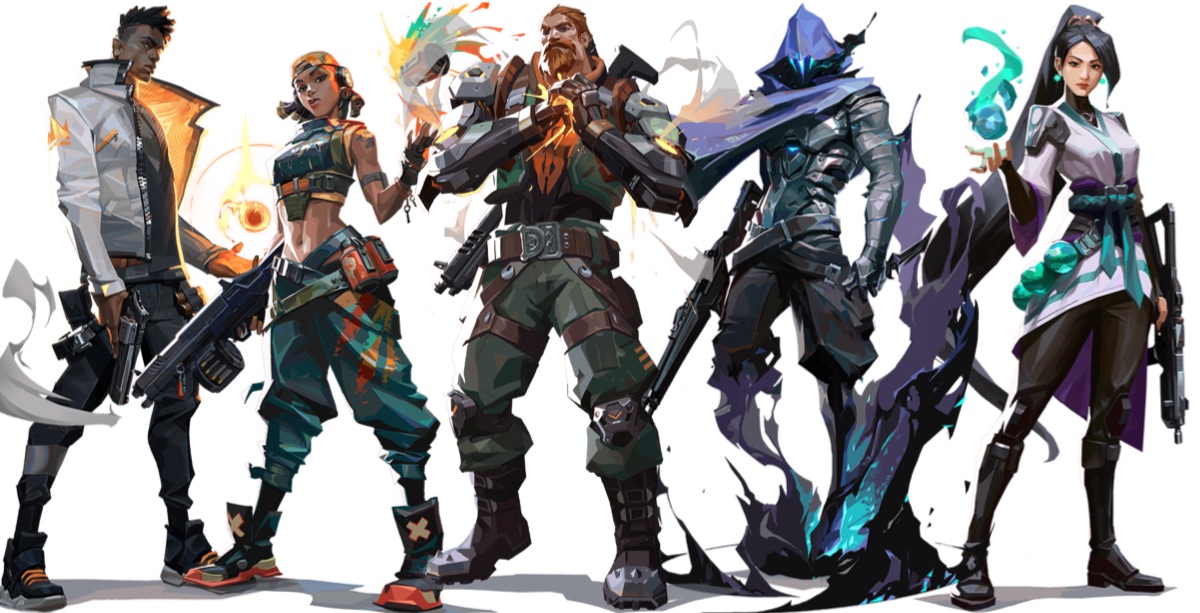 This one of the best Valorant team compositions is for aggressive players. This is a composition built to push pretty much non-stop and try to chase wins that way. This is a less congenital strategy, but some players can make it work.
This composition features two duellists to accommodate this. This is one more than a standard team should have. To make it work, you need to be using the other players to support the duellists and push them in adventurous positions constantly.
Breach can frag areas to clear them. His work faster than Phoenix's, so this makes a lot more sense. Afterwards, Phoenix follows through and flashes them up close. This leaves space for both duellists to fully attack.
Omen can smoke areas in combination with duellists to provide cover for entering areas. Smoke can be thrown down, giving your duellists cover to push into an area and take on the enemy team.
One important thing to keep in mind about this Valorant team composition is Ultimates. Breach's needs to be done on the bomb site, ideally when there are plenty of enemies nearby. Use smoke and the duellist players to push enemies into this zone before it is launched. However, Breach has to communicate clearly so his ultimate doesn't hit teammates. After this is fired off, other players are free to use their own ultimates.
This is a great choice of team combination in Valorant for playing really aggressively.
Which Valorant Team Composition is for You?
Those are some of the best Valorant team compositions at the moment. However, each suits a different set of players. The first is a great base to start with. You can then adjust it gradually to suit your own tactics. The second is better for teams to rely on communication and better thought-out plays. The last one benefits players going for all-out aggression and can help salvage what is usually a messy style of playing.
Our other guides to Valorant can help you master other mechanics of the game.