Some areas of Apex Legends are still clouded in secrecy. The game didn't come with a manual, and not all players are aware of certain elements in the game. These tips and tricks will teach you some of the things that the game doesn't. by mastering these little quirks to the game, you can seriously improve your performance. Once you're using all of these, you're going to be playing at a higher level than the majority of players out there.
These are some useful things that players should know. They're not comprehensive character guides, but small details that will really help you elevate your overall play. You also need to have your settings optimized to make the most out of these tips and tricks.
Movement and Mechanics Tips and Tricks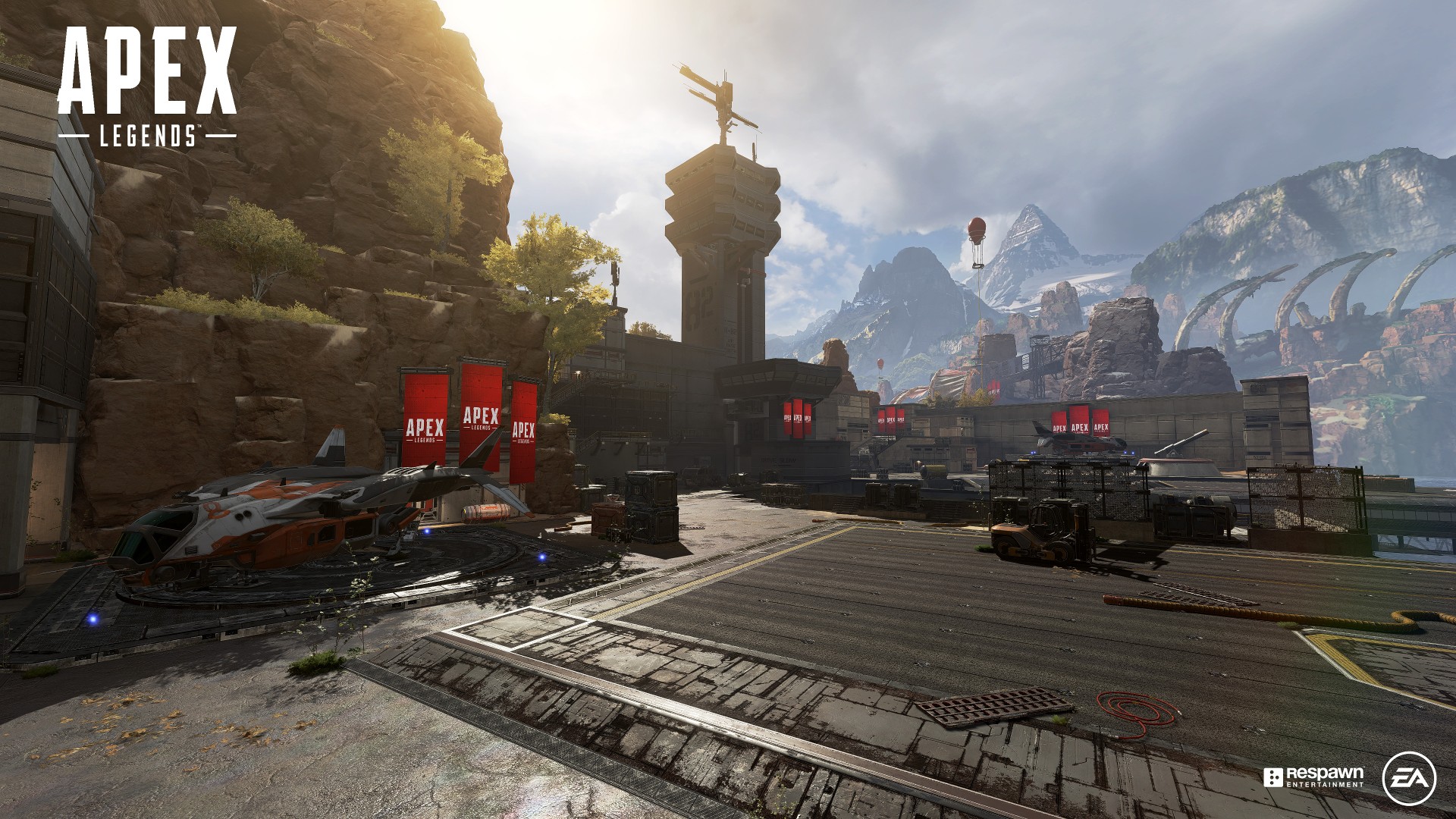 These tips and tricks can help you from the minute you drop in.
A typical round in Apex Legends lasts last between 14 and 25 minutes. This is a lot shorter than most battle royales because of the smaller player count and the focus on mobility. You should use this to your advantage and not waste any time.
Footsteps are much quieter than in other battle royale games. You'll have to listen closely to actually pick up on the sound, but so will your enemies.
There's no fall damage. You don't have to worry about taking damage when trying to get around quickly.
You'll get an out of bounds message if you get too high up. You're given a timer for getting back to the game area before you start taking damage.
You can smash open doors by using a melee attack on them. This can be a great way of escaping when cornered in a room or just make for a dramatic entrance.
More Movement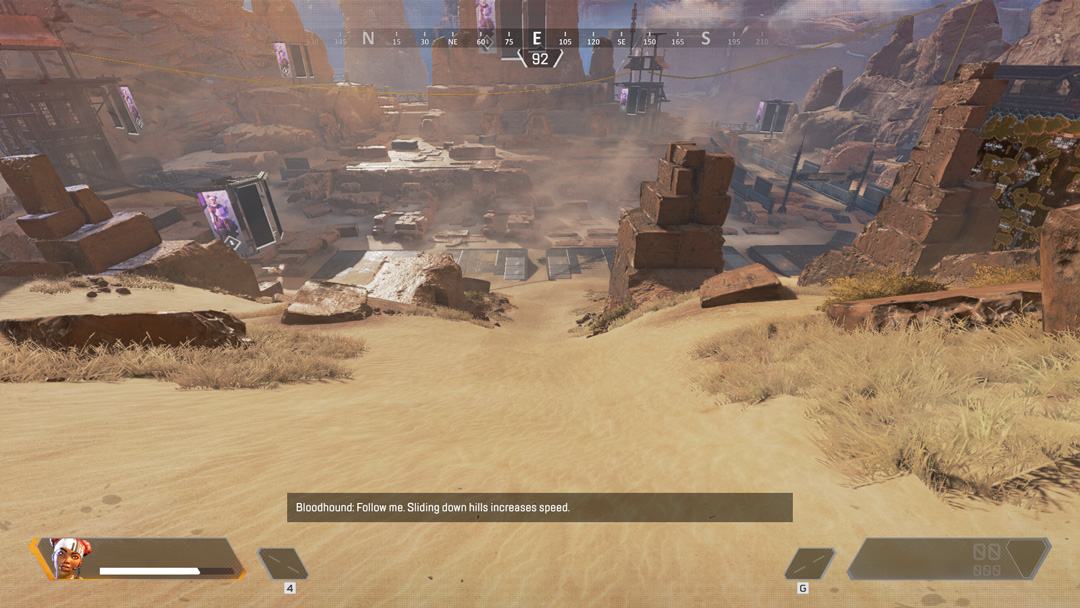 Movement is key in Apex Legends. There's little room for camping or pausing for a few minutes in this fast-paced game. These tips and tricks will help you master fluid and quick movement, to keep you coming out on top in your games.
You can walk straight through your teammates like they're ghosts. They won't block you.
Slide Jumping is the quickest way to get around. You should be sliding jumping and sprinting as much as possible. As well as being quick, it's also a lot more fun than walking.
You can slide downhill as long as you want. Lookout for hills as these can give you a major speed advantage in getting around.
All characters have the same movement speed. No matter which legend you pick, you can across the map at a decent speed.
You can climb walls! Kind of. You can climb up walls 3 to 4 times your height by sprinting at the wall, you then need to hold the jump button while looking upwards. It is a little tricky to pull off so many players ignore it. You should work on getting the hang of this trick.
You can wall climb up an open door. Doing this will then let you wall climb up the higher wall attached to the door. Combining these tips and tricks can give you access to roofs that other players can't reach.
Tips and Tricks for Drops and Looting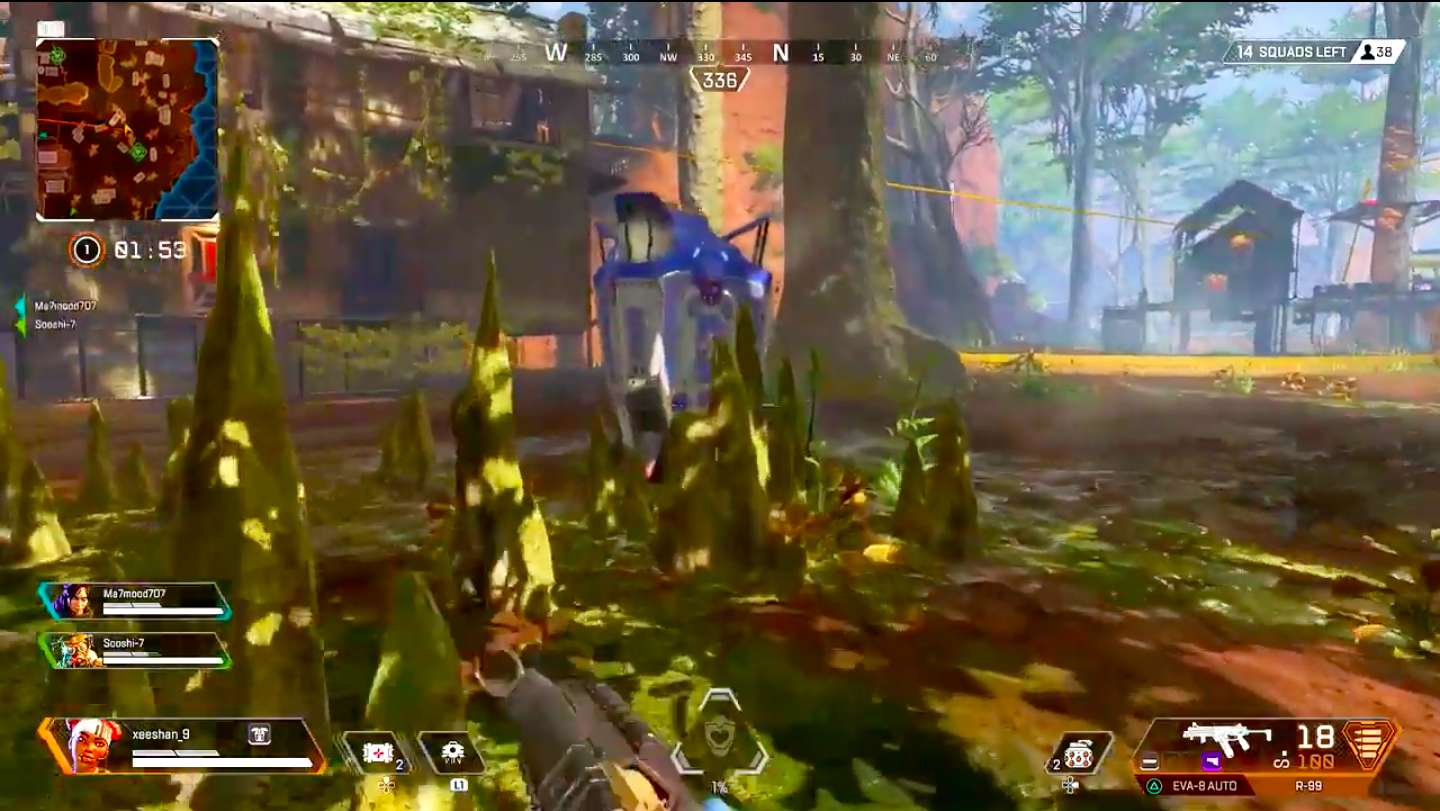 These tips and tricks can teach you how to best organize your loot in the game. With these, you will know which supply drops to utilize and ensure you're getting the best weapons that you can.
The Supply Ship and Hot Zone are the most popular places to drop because of their loot. If you want to practice shooting, this is the best place to land. If you're trying to prioritize looting they can also be a good location, but there are other options.
You can move loot boxes around. Kicking them or sliding into them will knock them around the map. This is kind of an inefficient way to share though, you should probably just tell your teammate about the box.
Loot Robots are available all across the map. If you destroy these little robots they will give you some supplies, but you'll have to live with killing an innocent robot.
Loot is spread out evenly in the map. However, the Hot Zone, Supply Ships and Supply Drops are the main spots for getting gear. These places will always give you the best gear, irrelevant of location.
When you enter a zone, a symbol appears on the top left of your screen. This indicates that tier of loot is available there.
Drops have different colors depending on their source. Those called in by players are light blue. These land fast and aren't visible on your map. land fast. Normal ones are red and will be visible on everyone's map. You can use this to your advantage, every blue drop will indicate the location of a team.
An airdrop falling on you won't do any damage.
Tips and Tricks for Gear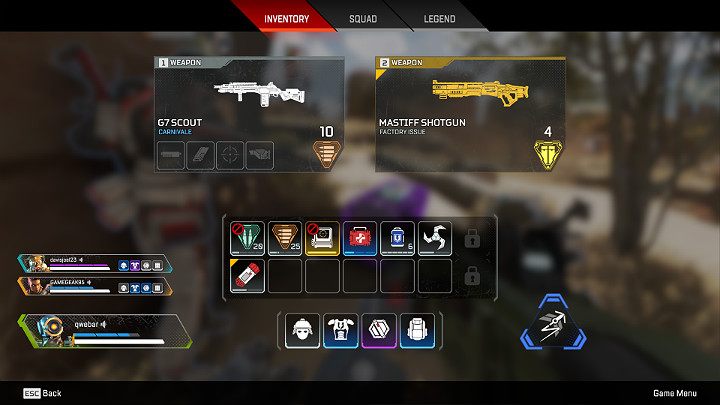 The first step is winning a game in Apex Legends is getting the right gear. You can't do well if you're not properly equipped to actually take on other players. These tips and tricks will help you make the most of your gear by learning the smaller details of inventory systems and ammo.
The shields you loot off dead enemies will be fully charged. Even if you've destroyed most of it, once you get it off of them it'll have recharged for you. This really helps you make the most of the gear you take from enemies.
Some scopes let you toggle how zoomed-in your view is. You can change this by hitting Left Shift on a PC or L on controllers. Make sure you remember this as it can help you waste less time lining up a shot.
A newly picked up gun will always come with a full magazine of ammo. Even if you don't have any ammo for that particular gun. You can use this to your advantage by giving guns to your teammates when they're low on ammo.
Guns are color-coded by the type of ammo they require. If you look at the colors enough, this should help you instinctively know how your ammo supplied for that weapon are. Utilizing it a lot will make it simple to learn what ammo you need for each weapon.
Gear and ammo that's useless to you will be crossed out with a red line. You're welcome to hold onto it, but this warning should show you when you're carrying dead weight.
You can see your teammate's gear. If you need to quickly refer to it, just look in the bottom left of your inventory.
Combat Tips and Tricks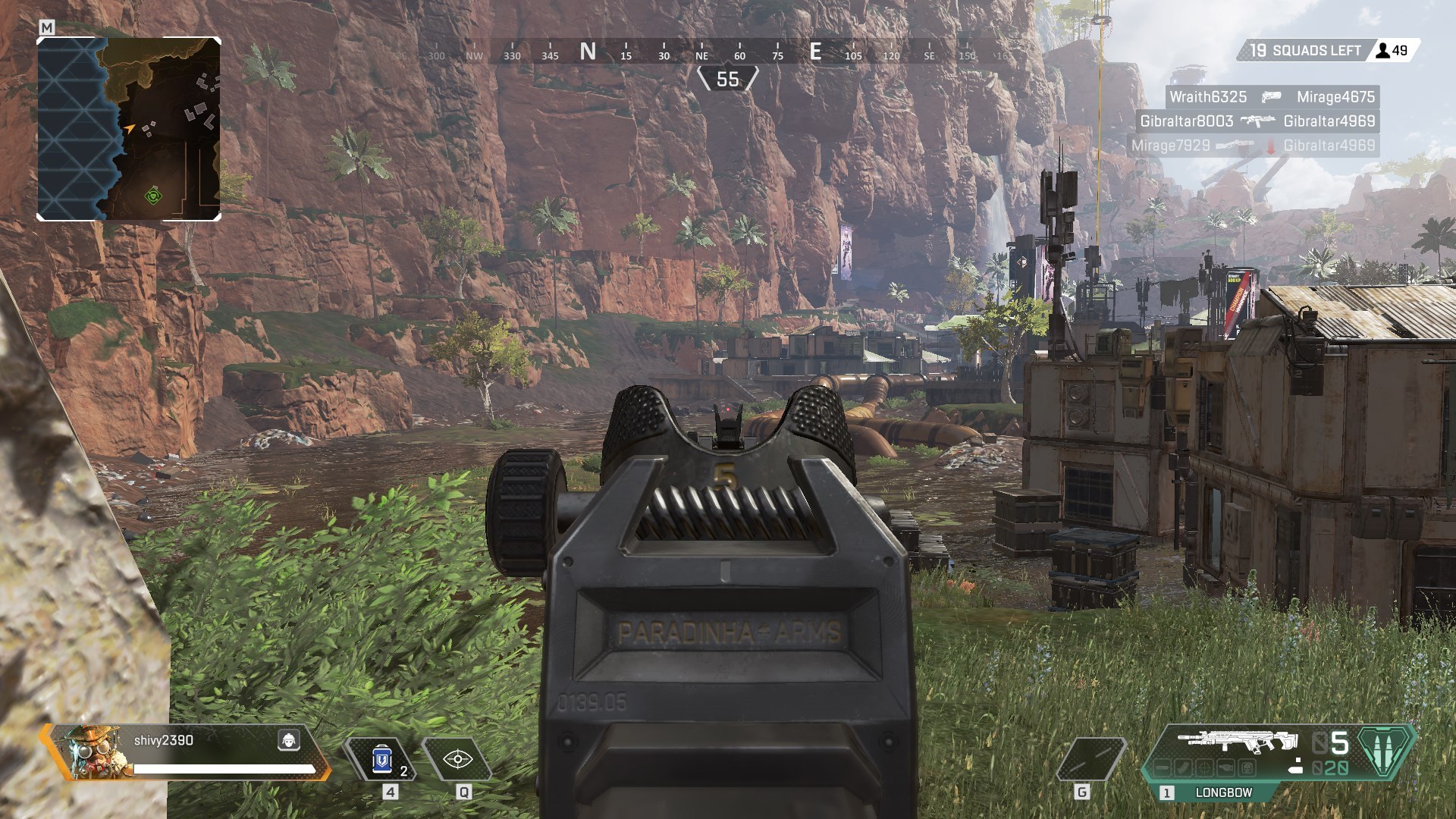 These tips and tricks dealing with what might be the most important aspect of the game; combat. If you master all of these tricks, then you'll be in a better position to properly win firefights. Once you've learned good technique, you should be able to take out many enemy teams.
Movement is the most important thing to combat. Apex Legends doesn't reward camping. Gameplay is closer to a big multiplayer map in a traditional shooter than the battle royales that fans might be used to. If you master all of the movement tips and tricks, these should help in combat. You can't stay static, even in a firefight.
Moving around the area is better evasion of firefights than hopping up and down. Players coming from Fortnite might need to change their play style, bunnyhopping doesn't work in Apex.
Remember to check your tactical ability often. This might seem like a basic thing, but many players forget to check the cooldown on their skills. They can be used a lot more often than it initially seems. Make sure you're making the most out of your Legend's abilities. It's eligible much more often than most players notice
Slide jumping is even useful in combat. It's one of the best moves in the entire game. Utilizing it in combat can let you move around the area in a firefight at much greater speed. It also moves your character round dramatically, making it harder for enemies to hit you.
More Combat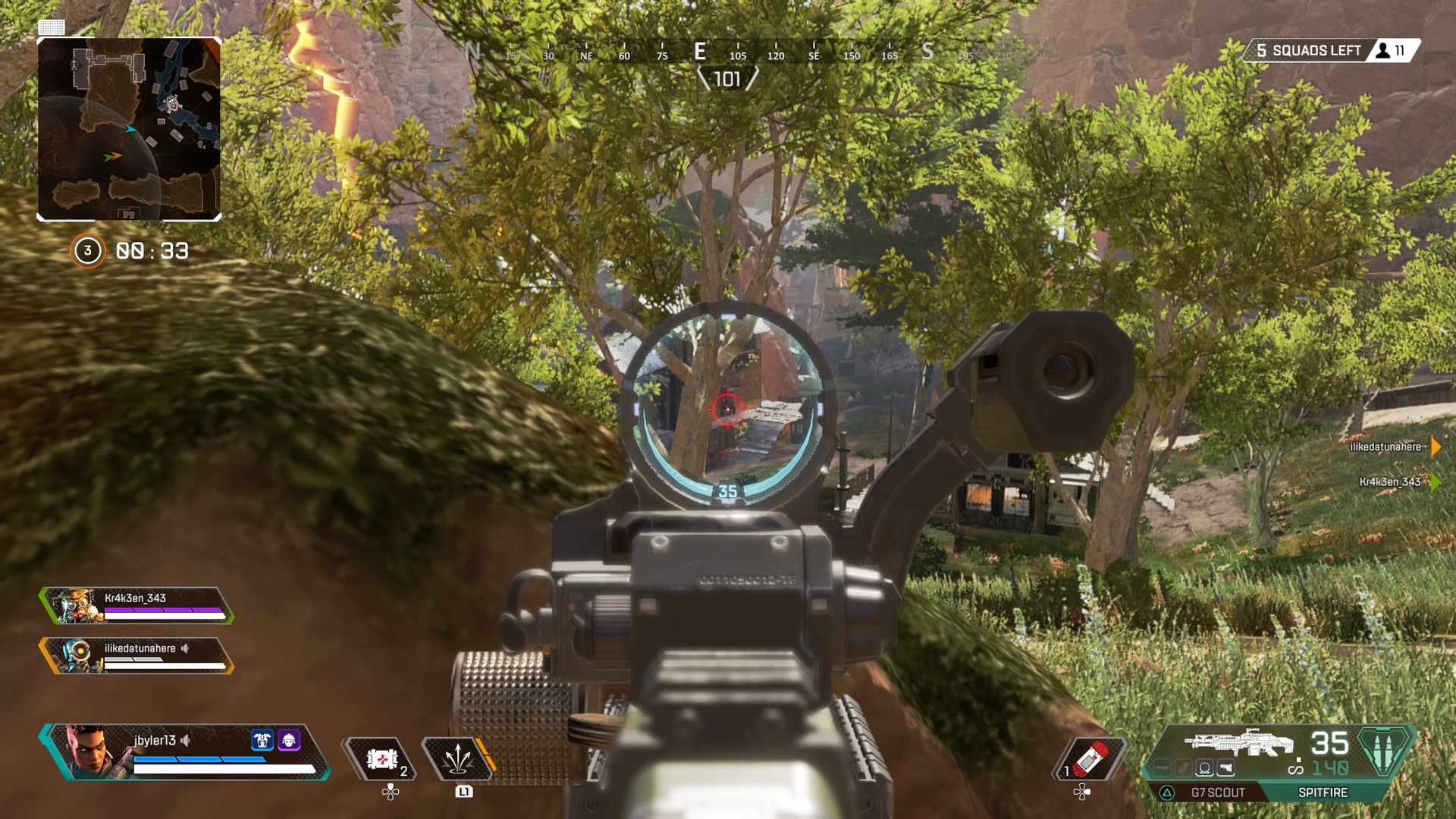 Damage is color coded. If you've got your settings optimized, then damage numbers will come off of players as you hit them. Each represents the shield that they're using, red numbers will indicate that their shield has been destroyed and you can move in for the kill.
Apex Legends is geared for short-range combat. You should practice this over long-range. Close combat is the best way to give out more damage, you're too mobile for long-range combat to be effective for long enough to take down an entire team.
When you destroy an enemies shield you will hear a sound to indicate it. If you can learn to notice this, then you will have a better idea of what is going on with your opponent.
You can utilize different Legend's abilities for a better advantage. While each Legend has their own ability, combining them can work well. Such as Bangalore's smoke bombs. Bloodhound can see through this smoke. When you stack these two abilities, you have a better chance of getting the most out of your legends. You should pick characters that work well together.
Hovering while selecting a legend can let your team-mates know which character you want to use.
Bullet drop is in effect in Apex Legends. You have to keep it in mind when aiming at a distance.
The fast rate of movement in Apex makes it difficult to get a headshot. Aiming at long-distance or specifically at the head is a lot riskier here than in other shooters. Aiming for the chest is a safer way of getting eliminations.