Spellbreak doesn't have traditional Battle Royale combat with shooting or building. However, it does a rich and deep combat system of magic and spells. It is still a Battle Royale game, so despite not having any physical weapons, you need to know how to win fights. Fights in Spellbreak get a lot wackier and crazy than any other Battle Royale. With the variety of Gauntlets around in a multi-person fight, spells are combining all over the place and it is hard to know what to do. With some proper strategy and practice, you can master combat in Spellbreak and start coming out on top more.
Spellbreak's defensive options aren't exactly abundant. Since the spells are dramatically different, your ain option is just to not get hit. This makes movement and planning the two most important things for combat in Spellbreak. You need to stay moving to keep yourself in the best position possible. You also need to think through every firefight and ensure you have a stronger position going into it. If you can master these two things, you can win more fights in Spellbreak.
Using Movement for Combat in Spellbreak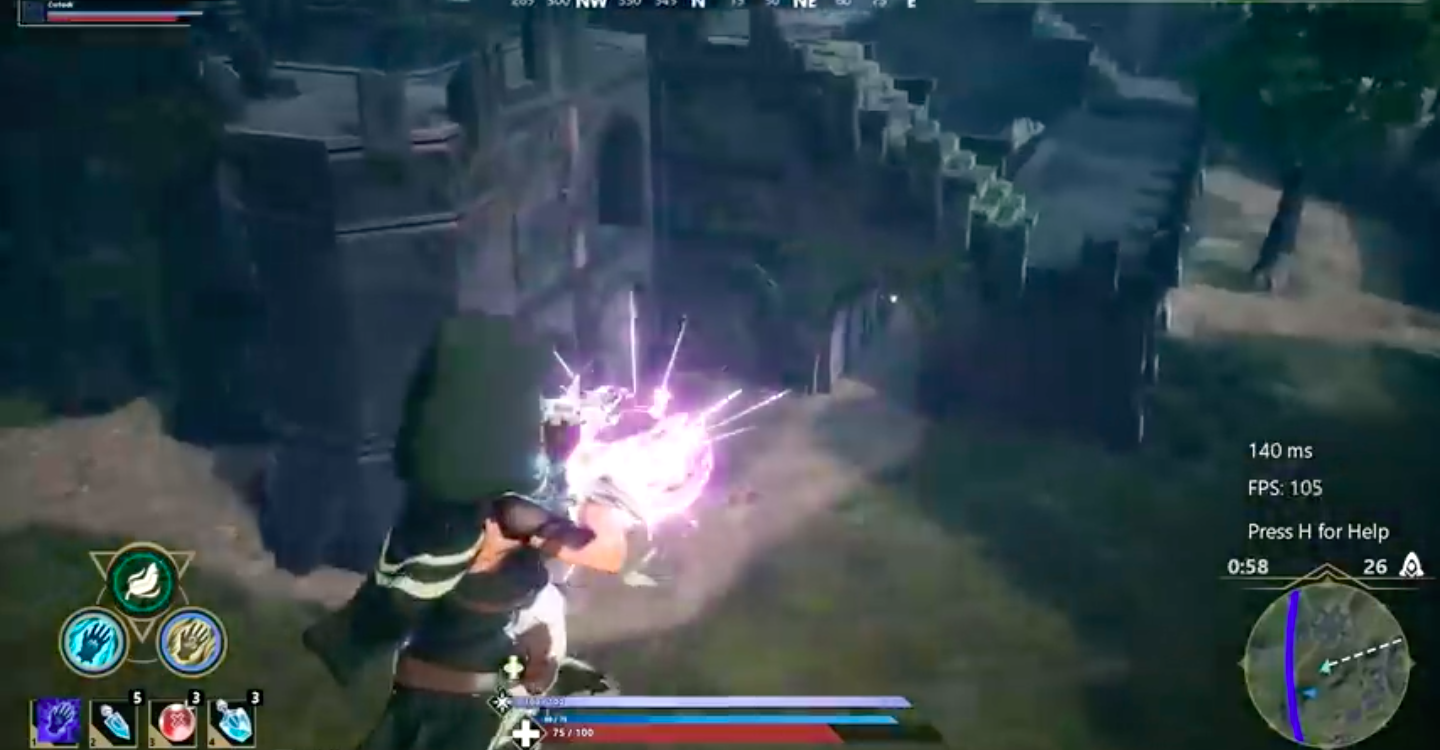 At the moment, Spellbreak doesn't offer much in the way of defense. This makes not getting hit much more important than countering attacks that come towards you. Your only option for attack then come at you, is to cancel them out with a spell of your own. This isn't as helpful as it might seem because no one made any change in that situation. After your spells cancel out, you're back where you started. The exact same positions, with no lasting change from the spells. This can make combat in Spellbreak feel more like a war of attrition.
To stop this situation from happening, you need to make the most of your actual defensive option: movement. Spellbreak rewards players who are constantly moving and making the most out of its terrain. Not getting hit and moving to an advantageous position while your enemy recharges their mana is a much better outcome than two spells canceling each other out. Runes are a big help for this kind of movement. The Blink rune or teleportation can make it easier to dodge and seize a correct position, but you're not always going to get the runes that you want. When you do get a dodging rune, you should look for equipment that reduces the cooldown time or adds extra chargers, this way you make the most out of the rune.
Otherwise, you need to use your movement to keep other players at a disadvantage to yourself. Avoid wide open spaces. These areas are far too level to provide anyone with an advantage. Instead, try to engage close to cover or indoors. These areas provide plenty of space for you to hide and jump and confuse your opponent, putting you at a major advantage.
Staying Vertical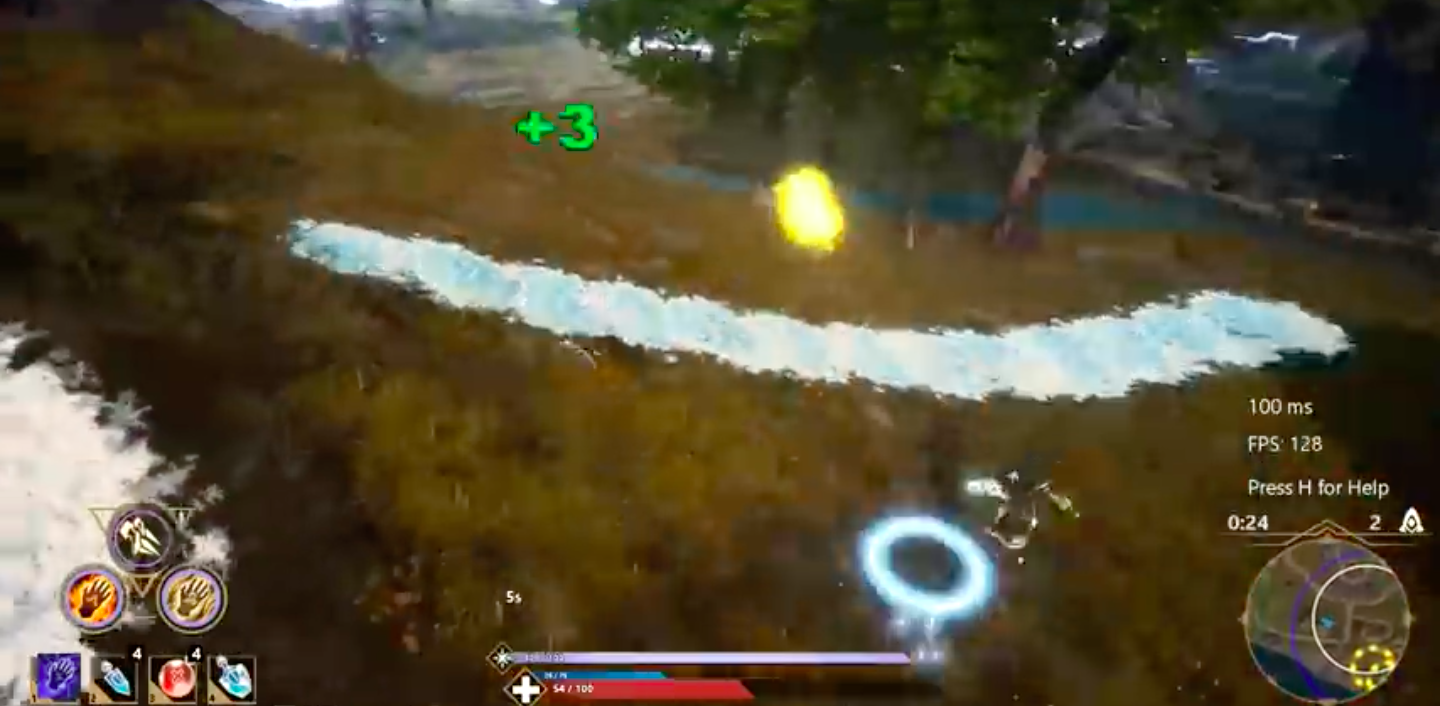 The double jump is a mechanic that you won't find in other Battle Royales. If you want to do better at combat in Spellbreak you need to keep in mind that the map was designed to be vertically playable as well as on the ground. Double jump to take the high ground and the better position for a fight. You should also use the jump to get on top of structures and make better use of runes like Flight or the Wind Gauntlets. Staying vertical can help stop you from getting pinned down by enemies.
Whether you're playing in Solos, Squads, or Duos, you're rarely alone in Spellbreak. In most combat situations in Spellbreak, a third or even fourth player is likely to see your fight and stumble in. In this situation, you always want to be the player around the edge of the fight. The player trapped in the middle will be easy pickings for the players on the outside, taking two players attacks rather than one. Staying on the outside can help you stay alive in a lot of fight, you can then pick off other players gradually rather than being in the center of everything.
You can also use the environment to take the best position possible for combat in Spellbreak. If you have a selection of equipment and Gauntlets suited to AOE attacks, attempt to trap your enemies in a situation where your AOEs can do maximum damage. Using more enclosed spaces like this can help you do gradual damage while providing plenty of cover to keep you alive.
Keeping Combat in Spellbreak on Your Terms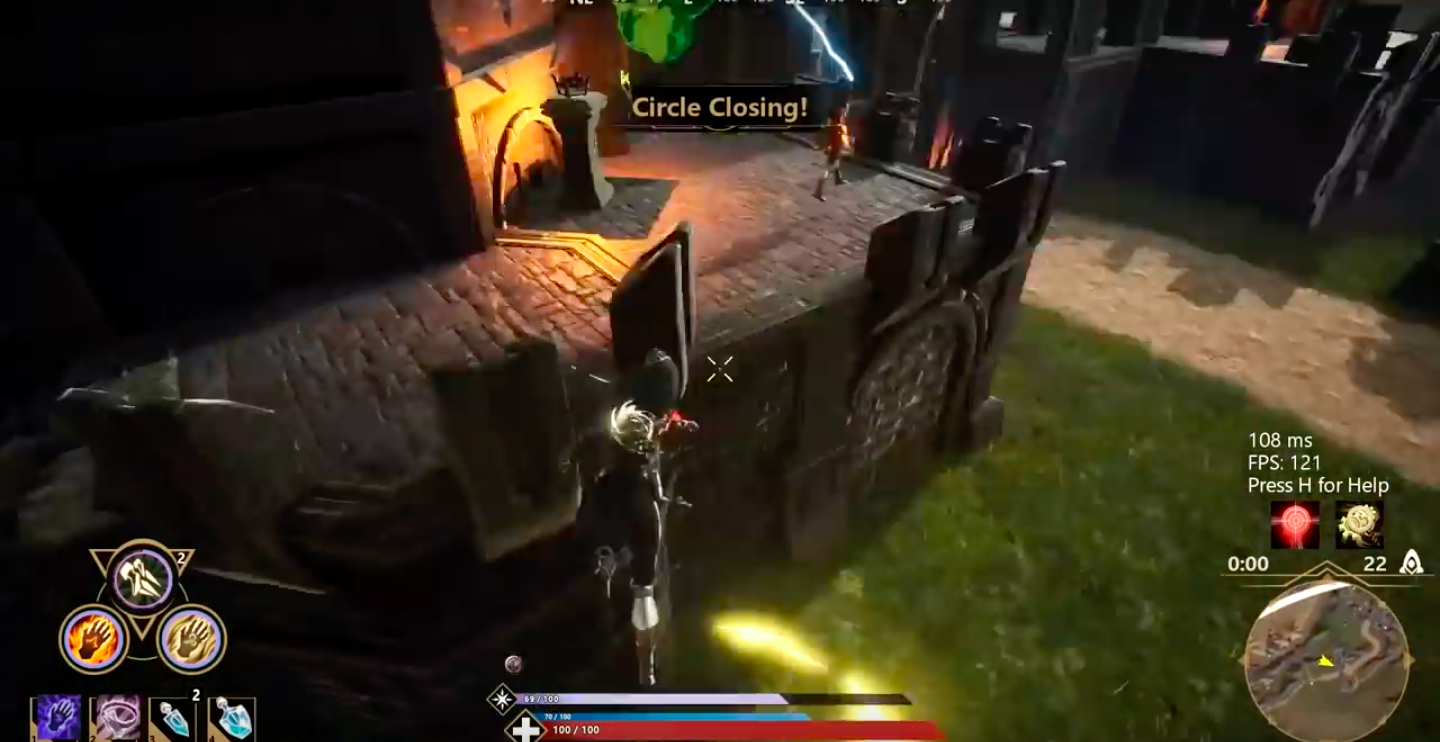 Spellbreak is a Battle Royale so the equipment you manage to get is going to be dependent on RNG. However, this doesn't have to mean you're playing a different way every game. You need to make sure you're getting the right equipment for your play style every time. This makes taking the Gauntlets that you work best with and using all of their combos for maximum effect. You then need to tailor your approach to combat in Spellbreak to whatever equipment you have.
When engaging with an enemy you should try and figure out what equipment they are currently using. Determine whether they're emphasizing short of long-range Gauntlets, and which you are better suited to use. You then need to force the fight onto your terms. If you're at an advantage using long-range weapons like the Frost Gauntlet, backtrack during the fight to keep them at the best distance. If you need to use close-range weapons like the Toxic Gauntlet, move towards them using runes and pin them down up close.
Combat in Spellbreak can be won through thinking out encounters and staying in the right position. This is a much more effective strategy than just spamming your spells and hoping for the best. If you use the right combination of equipment and have a good strategy to go with it, you can take control of most fights in Spellbreak.