Spellbreak gives players the choice of a number of different character classes. Character classes give you a starting gauntlet of a particular type, but also certain boosts. With each increase in rank, you get access to a stat boost or ability that aids you. Frostborm is a pretty specialist choice for your Spellbreak character class. With it, you get an Ice Gauntlet as your weapon and access to abilities that boost the effects of a frost Gauntlet. The frost Gauntlet is the best option in the game for ranged attacks. This makes it a bit trickier to use than many of the other classes like Pyromancer.
Doing better in Spellbreak comes down to using everything the game makes available to you. Spellbreak has a lot more options than a lot of Battle Royales, and players often ignore this. If you want to do better with Frostborn, you need to be building your entire playstyle and loadout around the class. This guide covers everything you need to know to fully optimize Frostborn as your Spellbreak character class.
How to Play Frostborn – Attacks and Abilities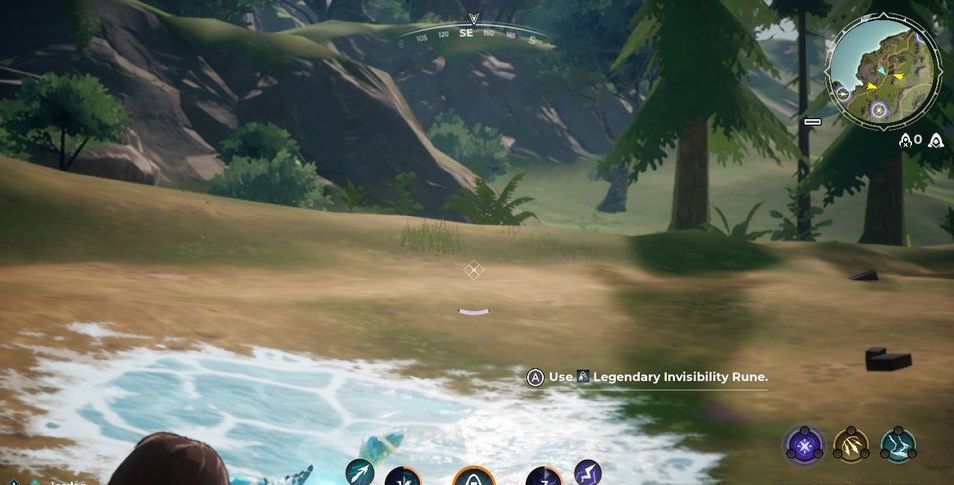 Frostborn gives you a frost gauntlet when you first drop in. This is a common Gauntlet that you should replace, but ice attacks are going to be your primary weapon for the game. These are the two attacks that you'll always have access too in-game.
Ice Lance
This is the primary attack for the Frost Gauntlets. This is a long-range shard of ice that you can fire. Charging it up will increase its range. With a full charge, you can use it at the same distance that you would a sniper.
It does 15-45 damage at the common level, but that gets up to 24-72 at the highest level. Something to keep in mind here is that the charge up can be slow, and makes an audible noise. So while hitting the hardest does the most damage, you can't always use this. The Ice Lance is effective as a long-range weapon, but also for a closer range. It is a diverse attack, that is your standard as a Frostborn player. If you're particularly good at aim at a medium or long-range then you can really get the most out of Ice Lance and Frostborn.
Flash Freeze
Flash freeze creates a chilled zone around you. Opponents that are inside of the flash freeze will slow down by 50% for 1,5 seconds. Following this, they'll be fully frozen. The flash freeze doesn't pair great with other Gauntlets. It actually blocks out fire, wind, and lightning attacks. This gives it a second utility as a kind of a shield once you're immune to it.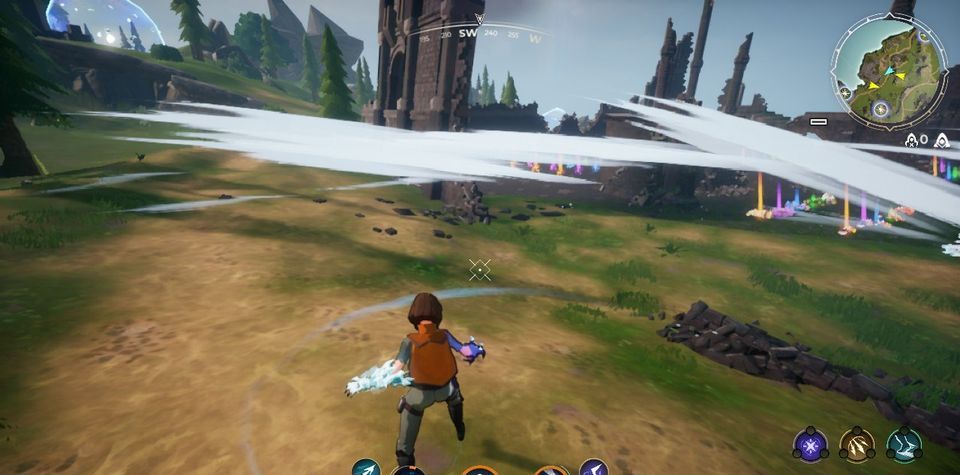 Flash freeze isn't the effective attack that other gauntlets have as a sorcery. You can use it defensively or as a move to help your teammates make an assault. As a shield and zone to freeze other players, you can drop this down in a close combat situation to both protect your team and make the enemy into sitting ducks for a few seconds.
Frostborn Abilities and Levels
Those are the two attacks you have available as a Frostborn. You've also got a second Gauntlet, but with Frostborn as your class, you should focus on the frost gauntlet. That's because you get some special skills and abilities for the frost gauntlet. Character classes in Spellbreak award you a new level every time you hit the new circle in a game. These are the abilities that you get and how to use them:
Frostborn Levels
Starting Skill – Your starting skill with Frostborn affects your Ice lance. When you fire it, it leaves a trail of ice behind. You get a 150% acceleration of these ice trails. This gives you a pretty much instant mobility option on flat ground. It can be difficult to control your movement on an ice trail, but with a bit of time, you get the hang of it. Be careful in using it to zip to your target, ice gauntlets are better at medium range than up close.
Level 2 – When aiming and charging your ice lance, you can hover in mid-air. You will also see the outlines of targets while you're aiming. This is a massive boost. You can now sit in mid-air to make yourself harder to hit, and have an enemy detection tool. If you're playing on a team, ping, and callout the enemies when you see them. You can become a very useful support and long-range player with this level.
Level 3 – These levels give you immunity to flash freeze. You can also use flash freeze to remove any status effects, and your flash freezes are doubled in length. This makes flash freeze into a great tool as a shield as discussed in the abilities above.
Level 4 – At this level, your ice lance can overcharge for half a second to add 35% damage. This one just extends the current utility of the standard ice lance attack, but it does make a fully charged shot up close a powerful tool.
Best Runes and Equipment for Frostborn
Frostborn is going to make your Ice Lance more effective, but you have other options for equipment too. Runes are a vital thing to your Spellbreak loadout. They give you a unique ability and can enhance the way that you play. Making use of them is important, but so is choosing the right Rune. They aren't too hard to loot, so you can usually find the one that you want from each game. The Ice gauntlet with Frosborn's ability gives you a horizontal mobility boost. So, that rules out a few runes from being all that useful. These are some recommendations for ones that still work:
Wolf's Blood Rune – The Wolf's Blood Rune gives you the option to howl and then see the outlines of other players in the vicinity. You get something similar to this available to you with a higher ability level. Wolf's Blood is a bit more helpful since you don't have to be aiming or a high ability to use it.
Invisibility Rune – This rune allows you to become invisible and increase your run speed briefly. It can be used with Frostborn to position yourself for those sneakier kills. Once you can see the outline of enemies when targeting, invisibility becomes very useful.
Teleportation Rune – The Teleportation Rune allows you to pick a spot you can see and teleport straight there. While your ice trails make it quick to move, teleportation is a step beyond. If you have enemy outlines from your ability levels, then teleporting to the perfect position to take a shot can elevate things.
Featherfall Rune – The featherfall rune sends you up into the air and then you descend slowly. While you get an ability for a shortfall in the game, featherfall can allow you to take those high position long shots considerably earlier and more often.
Those are the best choices of Runes to pair with the Frostborn class. Like with any other class, you'll need to collect the highest tier gear you can to max out your other stats.
Frostborn Combo Guide
With the Frostborn class, you drop in with a common Ice gauntlet. However, a big part of Spellbreak are the combos that are caused by using two different gauntlets. Your choice of a secondary Gauntlet should be one that works well with the ice. It should be something that combines with your other attacks, to get the most benefit out of both.
Our full guide to Spellbreak Gauntlet combos covers this in more detail. However, these are some recommendations for the gauntlets that go best with Frostborn:
Ice and Lightning – Lightning attacks are going to electrify the ice streaks or puddles. This is a simple set of Gauntlet combos to add some extra damage to your Frostborn skills. This one is simple to use, and a great choice for Frostborn players.
Ice and Toxic – The ice and Toxic Gauntlets interact a little bit. You can use toxic clouds and toxic shots to spread a bit of ice mist. This helps you use that freezing effect more often.
There are some other combinations with the ice gauntlet, and it works as a decent counter to some other attacks. However, those are probably the most useful Gauntlets to use for combos.
If you're looking to improve outside of your character class, then our other guides to Spellbreak should be able to help improve other areas of your gameplay.