Healing in Spellbreak works a little differently to other Battle Royales. There are healing items like in Fortniteand PUBG, but they aren't your only option. As well as the potions available in the game, you can make use of your character classes, Gauntlet combos, and Runes to enhance your healing. If you can combine this with some of the more movement friendly bonuses too, you should be able to escape and heal before any player has the chance to exile you. Healing in Spelling can be really important for winning games.
With friendly fire in effect and gauntlet combos flying off everywhere, the ability to recoup some of your health in Spellbreak is really important. Unlike some competitive games, there isn't a siphon mechanic to give you some health or armor back after an elimination. All healing in Spellbreak has to be done by you.
If you think a healing focused playstyle might be beneficial you should use your character class and gauntlets to enhance your healing abilities.
Healing in Spellbreak with Character Classes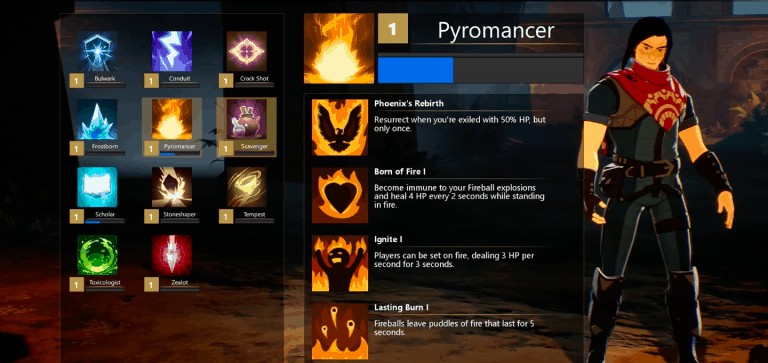 Your choice of character class is going to be dictated by how you play. However, some of them have a much better potential for healing in Spellbreak than others. These are the healing effect from character classes:
Bulwark – Bulwark is a character class with a big emphasize on healing. If you pick up some selectable scrolls, you should be able to be regenerating armor automatically along with either regenerating health while doing damage or gaining armor. If you're looking to heal you should go for the first and third selectable scrolls over the second.
Scavenger –With Scavenger, you will find an additional item every time you open a chest. This is really useful for stocking up on potions, but will take up a lot of space in your inventory. The third selectable scroll is quite useful for healing. You should prioritize this is using Scavenger.
Pyromancer – This is a strangely great class for healing, despite being fire focused. Your passive ability resurrects you upon death, and you can get a selectable scroll that allows you to heal when standing in the fire. With this and a fire Gauntlet you have no use for potions!
If you're looking to maximize your healing in Spellbreak, you should go for these classes. The best combination overall is probably Bulwark and Pyromancer, with an emphasis on getting the selectable scroll that allows you to heal in fire.
Gauntlets for Healing in Spellbreak
Your Gauntlets used for healing are only really going to be useful if you're using Pyromancer! If you've chosen this class, then you need to be using the Fire Gauntlet. This will allow you to use Fireballs to heal your self. Otherwise, your choice of Gauntlets isn't too important.
Runes for Healing in Spellbreak
While no Runes specifically focus on it, many are useful for healing in Spellbreak.
Invisibility –This Rune allows you to become invisible for ten seconds. This is the amount of time it takes to consume a potion. If you can't find space to safely heal, this rune will let you heal up in privacy along as your timing is right.
Wolf's Blood Rune –This Rune is also useful for when you're healing. It lets you see where other players are even through walls for forty seconds. Activating it will help you ensure no one can find you while you're healing. With such a long time, it should be long enough to get back up to full armor and HP.
Healing Items
Along with using Runes and character classes, you can't neglect the actual healing consumables! These are the ones available in the game.
Small Health Potion –Takes 3 seconds to drink, you gain 20 health over the next 10 seconds.
Large Health Potion –This takes 6 seconds to drink and heals you for 50 health over 10 seconds.
Small Armor Shard – This takes 3 seconds to consume and gives you 20 armor over 10 seconds.
Large Amor Shard – This takes 6 seconds to consume and gives you 50 armor over 10 seconds.
These items are the simplest way to heal in Spellbreak. However, if you're using the Pyromancer class then they shouldn't be necessary. Your own attacks will provide you with the healing boosts that you need. If you are committed to a different character class, then using some runes that give you protection will allow you to stay safe while consuming these items, making healing in Spellbreak much simpler.
If you want to win more matches you need to be using this Spellbreak equipment properly. It is also important to be using the best Spellbreak settings and getting the best frames per second properly.