Spellbreak is an exciting new RPG-based Battle Royale. The game had a lengthy beta period, where it built up quite a following. Spellbreak has finally been fully released now, and a lot of players are looking to improve their performance. Spellbreak has a lot going on. Attacks are big AOE effects that can be pretty taxing. Like with any other online game like Fortnite or Warzone, getting the best performance is important for performing as well as you can. The best Spellbreak settings can help you get a better FPS rate, get more kills, and win more games.
When optimizing your in-game settings, a lot of the options come down to how much your PC can handle. If you have a low-end PC, then the best Spellbreak settings for you are going to need to be less taxing. You need to be able to get a high frames per second, which will mean some graphical downgrades. Even without significantly altering the look of your game though, you can see a big improvement in performance.
This is everything you need to know to get the best Spellbreak settings for you up and running. Things will vary depending on the specs of your PC. However, we will explain those settings that have a big impact, and what you need to do to find the optimal setting for you. if you're going for a higher performance in the game, then these Spellrbeak settings are going to be a big help.
System Requirements for Running the Best Spellbreak Settings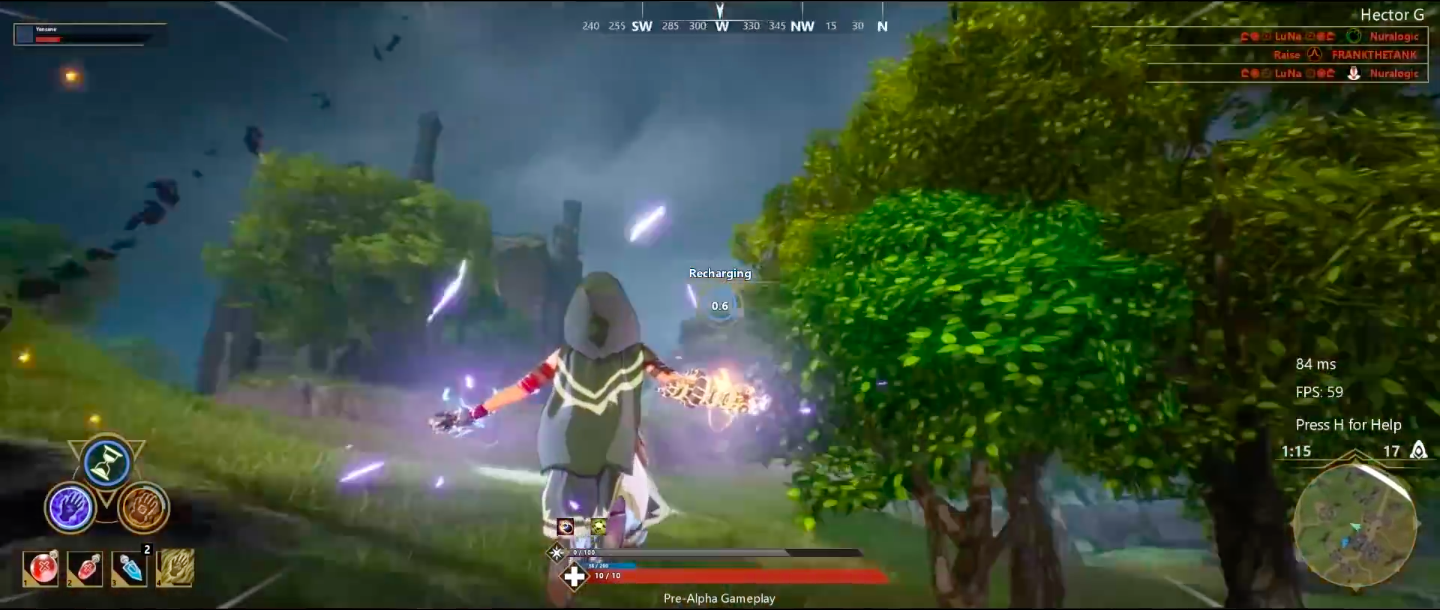 To start using the best Spellbreak settings, you've got to make sure your computer is capable of running the game at its best quality. The power of your machine is very important for getting the most out of a game, it could mean the difference between a win and a wasted game. These requirements are the bare minimum for running Spellbreak. If your PC hits this, then you can use the best Spellbreak settings to get an okay performance.
Minimum System Requirements
CPU – Intel Core i5-6400 / AMD FX-6300
GPU– NVIDIA GeForce GT 960 2GB / AMD Radeon R7 370 2GB
RAM – 8GB
Operating System – 64-Bit Windows 7, 8.1 or 10
These are the requirements for running Spellbreak. You can make sure your system can meet these requirements by checking its specs in the system panel. These requirements have gone up a bit since Early Access.
Recommended System Requirments
The minimum requirements are the lowest you can use, but the recommended requirements will help the game run as well as it can. With these system specs, you can get a great frame per second rate when using the best Spellbreak settings. These are the recommended settings:
CPU – Intel Core i5 2.8 Ghz
Memory – 8 GB of RAM
GPU – Nvidia GTX 960 or Radeon R9
OS – 64-Bit Windows 7 , 8.1, or 10.
The Best Spellbreak Settings
A computer that can physically run Spellbreak is well and good, but you also need to be playing right. If you want to get the best reaction times and do better in games, you need to really optimize things. In-game settings for games typically try and boost their appearance. They come with all sorts of bells and whistles turned up as high as they will go. You need to alter these settings if you're serious about using the best Spellbreak settings. What you're aiming for, is the highest frame rate possible. This makes your action the smoothest and can help you in firefights without limiting what you can see. These Spellbreak settings will help you play to the best of your ability by giving the best FPS but without affecting your gameplay.
The Best Spellbreak Video Settings
Display Mode – Fullscreen. This can strangely be a bit factor in your frames per second and performance. Keep it to full-screen mode.
Display Resolution – The resolution of your monitor. There is little point in putting it higher. You can experiment with having a lower resolution, but it doesn't make much of a difference.
Limit FPS – Don't limit this. Some people might prefer to put a limited setting on to stop tearing, but some tearing and a high frames per second can be an okay trade-off.
Graphics Quality – Custom. You can just set it to low if you can't be bothered to set things separately.
The Best Spellbreak Settings and Graphics Settings
3D Resolution – You can keep this pretty high without doing much damage to your frame rate.
View Distance– High or medium. The draw distance is important for spotting enemies even if it is a bit demanding, so this is somewhere that you don't want to have to compromise. If your PC is really struggling then lowering this a bit can be okay.
Shadows – Off. This is just a cosmetic that drops your FPS.
Anti Aliasing– Off. Anti-aliasing is a whole thing, but the short version is that it isn't particularly helpful and lowers your frame rate. This is the long version.
Textures– Low. If your PC can cope then this is definitely a setting that it's nice to put up a bit. It makes the game look nicer. This isn't essential though, so if you're looking to improve FPS this is one of the best Spellbreak settings to lower.
Effects – Low or Medium. This game has a lot of effects so this one is quite important. It does make a big difference, both to your performance and to how well you can play. Low is a safer choice but if you can handle it without your frame rate dipping, Medium is better.
Post Processing– Low. This makes the game look nicer but that's about it. It can be quite the drain.
V-Sync– Off. V-Sync ties your FPS to your monitor. This is just an unnecessary limit. Disabling it may cause more artifacts but the trade-off is worth it.
The Best Spellbreak Settings – Gameplay Settings
Video settings are the main thing for getting the best performance out of Spellbreak. However, the best Spellbreak settings go a bit past that. There are gameplay settings in Spellbreak too. These ones aren't as important as the best Spellbreak settings for video, but they can help you streamline the way that you play. These are more subjective than the video settings, so feel free to alter as you see fit to make them better suit the way that you play. These are the Best Spellbreak settings here:
Show Help and Armor Alerts – This one is just down t you, but turning these offs is probably better once you get the hang of the game.
Show Equipment Help – Just like the last one, you can probably turn this off after a few games.
Swap Gauntlet Slots – This one can be quite helpful on controller, but it's just preference.
Hud Scale – This one is down to personal preference, but reducing it a bit gives you more visibility of the game. Don't reduce it too much though. Unlike games like Fortnite, the UI here isn't too intrusive and things like cooldowns are important to be able to see.
The Best Spellbreak Sensitivities
Sensitivity settings are quite important in games. In most shooters, you need the right sensitivity settings if you want to stand a chance of hitting your targets. Attacks in Spellbreak work differently, but your sensitivities are still important. Which ones you use will depend on your memory to a point. However, overall lower tends to be better. It means you can make bigger mouse movements that are more accurate. These are some general recommendations:
Mouse Sensitivity X – 20. 
Mouse Sensitivity Y – 20.
The Best Spellbreak Settings – Controls
Invert Mouse – Off.
Toggle Crouch – This is personal preference.
Sprint as Default – Off. This can make movement clumsier.
Toggle Sprint – On.
Move Keys – You likely don't need a guide to the best Spellbreak settings to tell you that movement keys should be WASD.
Audio
Game Volume – This is your own preference.
Voice Input Volume – Whatever works best for voice chat.
Voice Input – Your input device.
General PC Settings
Outside of your in-game settings, using good practices on your PC can also improve your frame rate. These are some general tips to compliment the best Spellbreak settings.
Wired Internet – Use a wired connection at all times for more stable gameplay.
Plenty of Free Space – Make sure your PC has plenty of free space to give it the power it needs to work. You should use an external hard drive or SSD if you're struggling with this.
High-Performance Mode – Enable high-performance mode if you haven't already. This helps your PC run at full strength and is often turned down for energy saving preferences.
NVidia Settings – Make sure these are all in order if it applies to you. Things like PC level framing synching is going to cause a problem, so this needs to be avoided.
These Spellbreak settings will help you get the best FPS physically possible on your machine. Some of the settings that are set to low can be bumped up if your PC can handle it without sacrificing FPS. However, the FPS is more important than the visuals. Experiment with them to see what works best for your PC. However, these are a great starting point. Spellbreak doesn't have the most settings available to players, so it is important to work with what you have and make sure you're running the game as well as you can.
With these Spellbreak settings sorted, you can launch into the game ready to play. Spellbreak is an exciting new Battle Royale, definitely a game you want to be optimized before release.