Spellbreak is a really exciting new RPG-based Battle Royale. While it is still in closed Beta, the current release is more fleshed out than ever with it now available on consoles as well as PC. Spellbreak is looking set to become a pretty big game once it enters a wider testing phase, with each update adding more to do. Spellbreak is a bit different to other Battle Royales though. Its magical Gauntlet attacks and Combos make combat a lot more complicated. To get the most out of the game, your PC needs to be able to render all of these complex effects. It also has to do this quickly, since the first-person shooter elements make a high frame rate an absolute necessity. These are the best Spellbreak settings for PC, the set-up that is going to give you the best frame rate possible with the game without impacting gameplay.
The key here is to balance visuals with performance. More traditional first-person shooters only really need a high frames per second. However, Spellbreak is a little different. To fully connect with every attack, you need to be able to see their effects clearly and that's why visuals are a little more important here. While the game is yet to get all of the settings open for users to customize as game's like PUBG, there is still a lot you can do. If you want to increase your reaction times in Spellbreak, then this is how you optimize your game with the best Spellbreak settings.
System Requirements for Running the Best Spellbreak Settings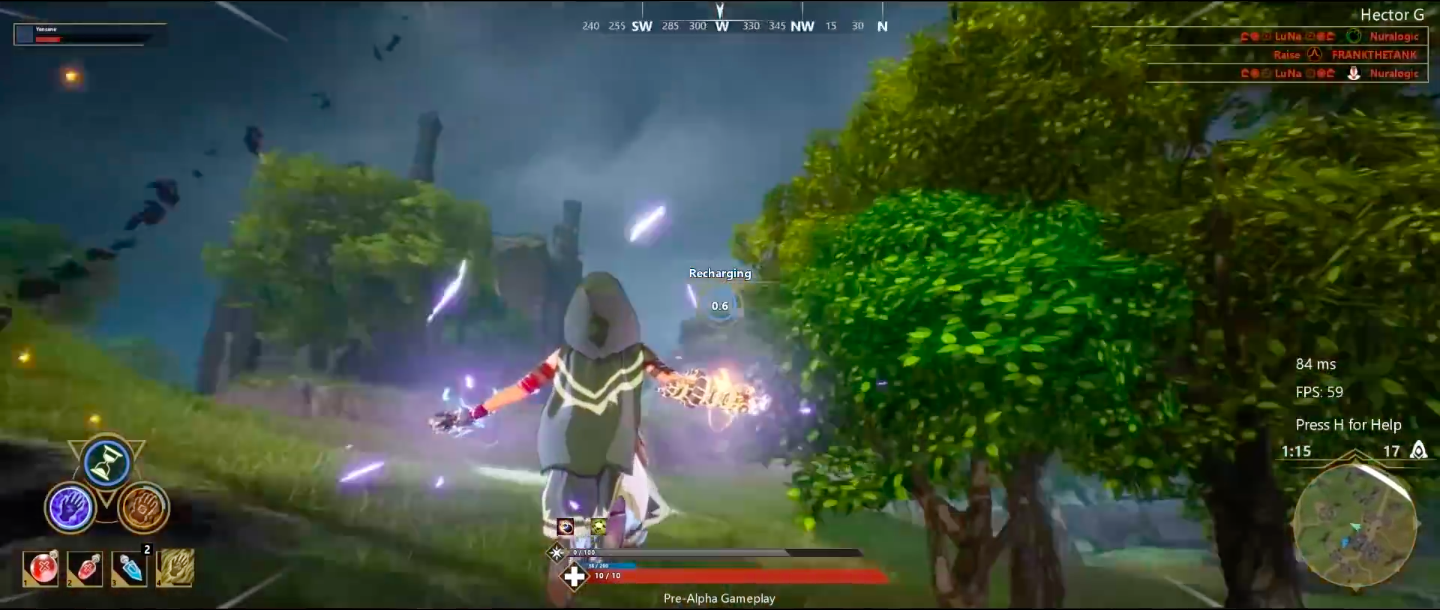 To start using the best Spellbreak settings, you've got to make sure your computer is capable of running the game at its best quality. The power of your machine is very important for getting the most out of a game, it could mean the difference between a win and a wasted game. This information is usually only given once you've been accepted into the testing period. By checking the requirements here, you can be sure that you can run the best Spellbreak settings before you register.
Minimum System Requirements
CPU – Intel Core i5-4430 / AMD FX-6300
GPU– NVIDIA GeForce GT 960 2GB / AMD Radeon R7 370 2GB
RAM – 8GB
Operating System – 64-Bit Windows 7, 8.1 or 10
These are the requirements for running Spellbreak. You can make sure your system can meet these requirements by checking its specs in the system panel. The system requirements for Early Access are typically different from those of the general release. If you don't quite meet these requirements, you will probably still be okay to play at launch. Since this is an early build of the game, developers often go for caution with the requirements to ensure an under-powered PC doesn't complicate their testing. Now that you're playing on the right equipment, you need to optimize your in-game settings.
The Best Spellbreak Settings
A computer that can physically run Spellbreak is well and good, but you also need to be playing right. If you want to get the best reaction times and do better in games, you need to really optimize things. In-game settings for games typically try and boost their appearance. They come with all sorts of bells and whistles turned up as high as they will go. You need to alter these settings if you're serious about using the best Spellbreak settings. What you're aiming for, is the highest frame rate possible. This makes your action the smoothest and can help you in firefights without limiting what you can see. These Spellbreak settings will help you play to the best of your ability.
The Best Spellbreak Video Settings
Display Mode – Fullscreen
Display Resolution – The resolution of your monitor.
Limit FPS –
Graphics Quality – Custom
3D Resolution – You can keep this pretty high without doing much damage to your frame rate.
View Distance– High. The draw distance is important for spotting enemies even if it is a bit demanding, so this is somewhere that you don't want to have to compromise.
Shadows – Off. This is just a cosmetic that drops your FPS.
Anti Aliasing– Off.
Textures– Low. Another cosmetic that won't benefit you much.
Effects – Low or Medium. This game has a lot of effects so this one is quite important. makes a big difference. Low is a safer choice but if you can handle it without your frame rate dipping, Medium is workable.
Post Processing– Low. This makes the game look nicer but that's about it.
V-Sync– Off. V-Sync ties your FPS to your monitor. This is just an unnecessary limit. Disabling it may cause more artefacts but the trade-off is worth it.
The Best Spellbreak Settings – Controls
Invert Mouse – Off.
Toggle Crouch – This is personal preference.
Sprint as Default – Off. This can make movement clumsier.
Toggle Sprint – On.
Mouse Sensitivity – This one is a bit tricky. Somewhere low around 30 is a good starting point. However, feel free to change this depending on what works well for you. Lower lets you make more exact movements, but if you're more comfortable with the hyper-responsive high sensitivities then these work too.
Move Keys – You likely don't need a guide to the best Spellbreak settings to tell you that movement keys should be WASD.
Audio
Game Volume – This is your own preference.
Voice Input Volume – Whatever works best for voice chat.
Voice Input – Your input device.
General PC Settings
Outside of your in-game settings, using good practises on your PC can also your frame rate. These are some general tips to compliment the best Spellbreak settings.
Wired Internet – Use a wired connection at all times for more stable gameplay.
Plenty of Free Space – Make sure your PC has plenty of free space to give it the power it needs to work. You should use an external hard drive or SSD if you're struggling with this.
High-Performance Mode – Enable high-performance mode if you haven't already. This helps your PC run at full strength and is often turned down for energy saving preferences.
These Spellbreak settings will help you get the best FPS physically possible on your machine. Some of the settings that are set to low can be bumped up if your PC can handle it without sacrificing FPS. However, the FPS is more important than the visuals. Experiment with them to see what works best for your PC. However, these are a great starting point. Spellbreak doesn't have the most settings available to players, so it is important to work with what you have and make sure you're running the game as well as you can.
With these Spellbreak settings sorted, you can launch into the game ready to play. Spellbreak is an exciting new Battle Royale, definitely a game you want to be optimized before release.