Spellbreak gives players the choice of a number of different character classes. These give you a passive ability to enhance your play from the second the game starts, you can also collect scrolls to further augment your abilities. While players collect runes and equipment, you also need to be using your player class to get the most out of your build Ideally, you should tailor these abilities to your style of player and choice of Gauntlets. Each move you make can be supported by a properly chosen bonus skill. Scout is a player class that boosts your mobility and knowledge of the area. It is a utility class with a very specific function. It is also the most recent class added to the game, coming in a later update.
Scout is built for Duo and Squads matches. It is essentially useless in Solo unless you're playing in a strange way. It pairs well with classes that boost specific Gauntlets. Matching it with another utility player class won't be particularly helpful. You will find yourself more mobile and with better loot, but lacking the abilities to back this up. Instead, you should pair this with a Gauntlet boosting class. Combining it with Pyromancer is a good build for the cautious player.
The passive ability for Scout is Foresight. This allows you to see the upcoming location of shrines. This ability will help you get the as many skill points as you can. If you utilize it properly, you should easily be able to collect all of your scrolls. This is particularly useful for team games since you can tell your squad where to go. This makes having one player on a team as a Scout a big bonus.
Scout's Selectable Scrolls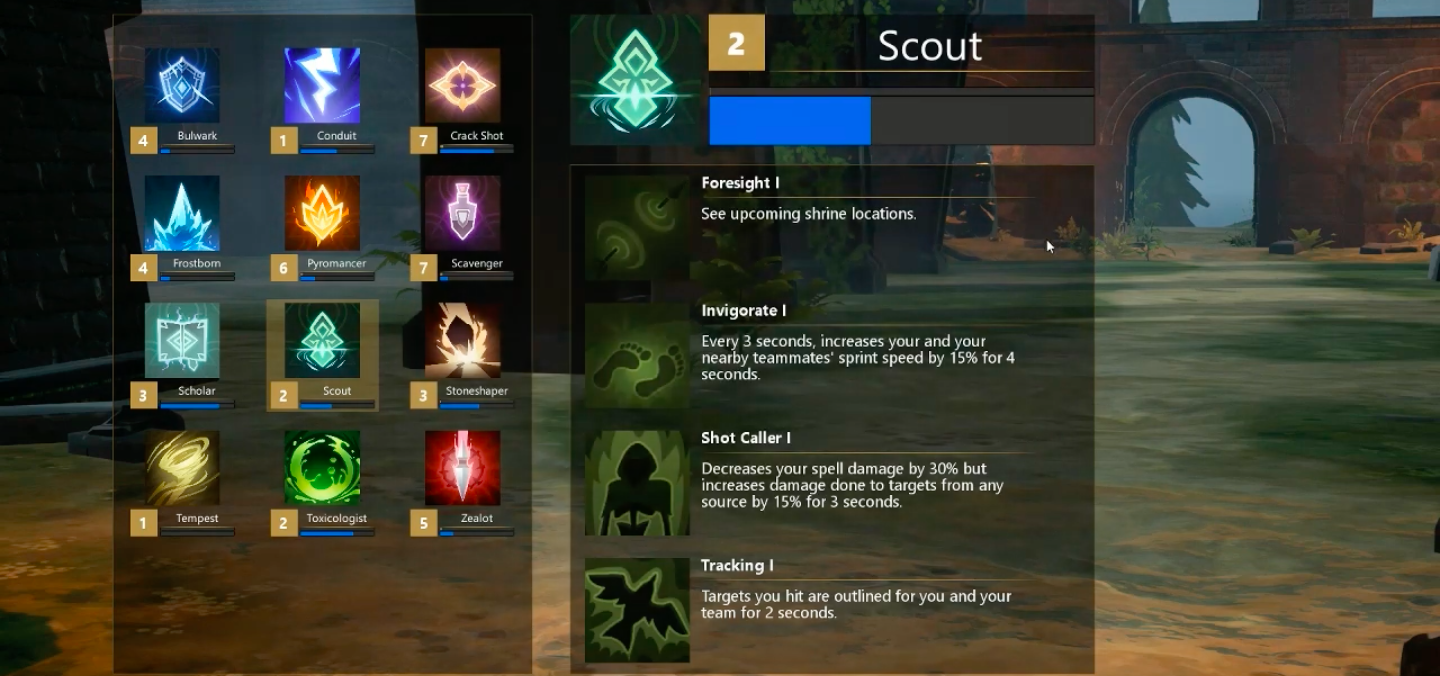 As well as the passive abilities of each of your character classes, you can also gain additional boosts with selectable scrolls. Each time you gain a skill point you can access one of these scrolls. The first selective scroll available for Scout is Invigorate. With this, every 3 seconds you and any nearby team mate's sprint speed is increased by 15% for 4 seconds. This boost to 20% and 25% with Invigorate II and III.
This is another skill which benefits your entire team rather than just you. This entire class is built to benefit a team. A player specializing in Scout without teammates will be lacking the other skills that they need. This is why it is important to share the boosts of Scout as much as possible. Invigorate's bursts of increased speed come and go so quickly it might seem a little janky at first. However, after a few minutes, you get used to the boost and start moving in a rhythm that utilizes it well.
The second selectable scroll for Scout is Shot Caller. This skill actually decreases your spell damage by 30%. However, it increases the damage done to nearby enemies from other attacks by 15% for 3 seconds. It increases this to 20% and 25% with the upgraded versions of the scroll but the duration never gets longer. Similarly, the decrease to your own damage is never affected by upgrading scrolls. For this scroll to be remotely beneficial, you need to be close to your teammates and coordinating your attacks. You should use this to boost the attacks of players who are already using their player classes to boost a Gauntlet. This will help you stack these damage boosts to hurt the enemy as much as possible.
Tracking and Playing as a Team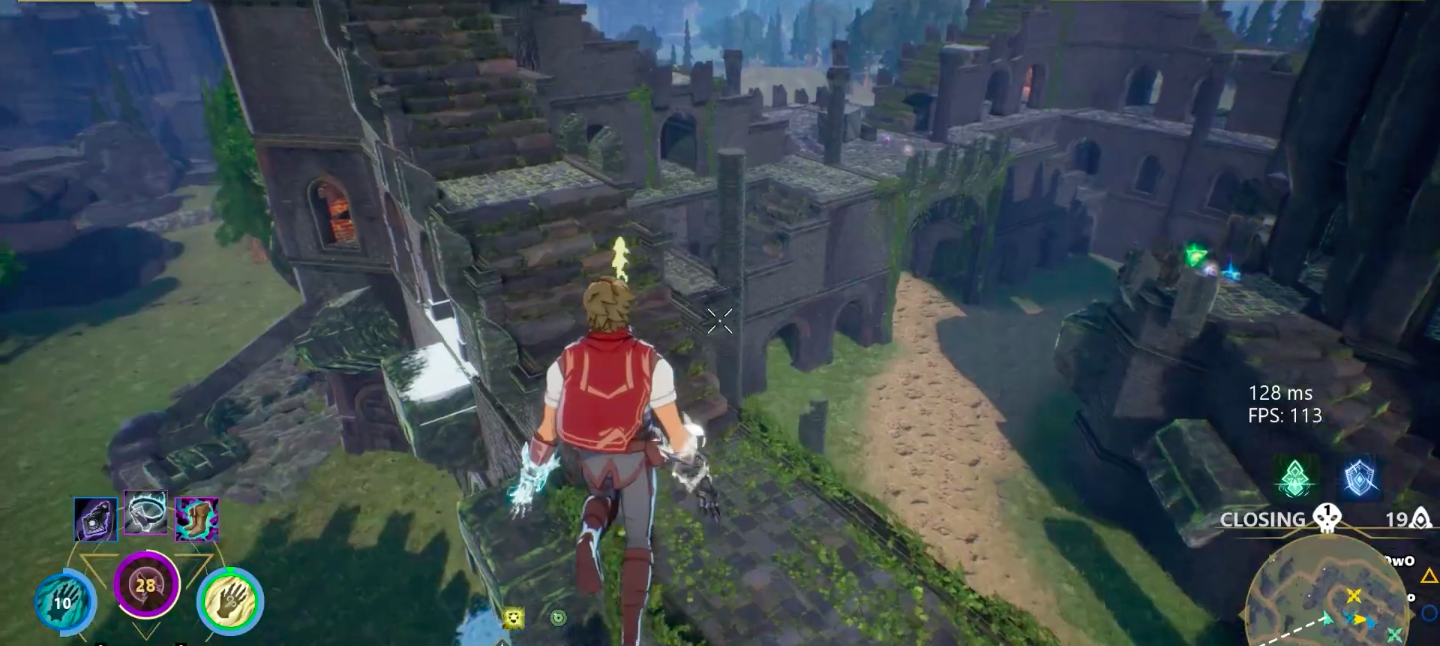 The last selectable scroll for Scout is Tracking. With this scroll, enemies that hit you are outlined for 2 seconds. This increases to four seconds with Tracking II and 6 seconds with Tracking III.  Like the other scrolls, this one benefits your team as much as it does you. If you really want to exploit this one, you can purposely leave yourself exposed to take a small amount of damage. Your teammates will then get the enemy's location for a precise attack. If you exploit this scroll in this way, this ability can start to help you offensively as well as defensively.
Scout is a fantastic utility for a team to have. It isn't the most fun to play, but it will help your team take control of the game. You only really need one Scout player in a team. However, it is important that this player knows how the class works and how to get the most out of it. They should spend their time calling out enemy locations, putting outlines around them, and sacrificing their own spell power to increase the boosted combos of their teammates. If a Scout player can master each of those roles, then they can be a good asset to any team.