Spellbreak's closed beta has brought a lot of new players into the fold. The now polished RPG mechanics and spell-based combat are becoming even more refined with every patch. Since Spellbreak uses such a dynamic system of Gauntlet combos and movement, every patch has serious changes for every player. With so much of the metagame based around the interaction between various mechanics, the alteration of one can effect the entire game balance. These are the Spellbreak 1.1 Patch notes for the first update of the closed beta. They cover everything that has been added or changed about the game, and how that is going affect the way that you play.
Spellbreak 1.1 doesn't just change things though. The game also has some new content coming in this iteration. As ever, there is more and more to do in Spellbreak.
New Content in Spellbreak 1.1
Spellbreak 1.1 has quite a few new features for players. These are what you can start using now:
Cosmetics
Three new cosmetics have been added into the game. These are:
Artifacts – These are magical relics. They float around behind players after the 1.1 patch. Only two are currently available; the Fracture and the Orrery.
Afterglows – These are a version of the trail that comes from your character's feet after levitating. Currently, there are two of these trails; Simmering Rage and Light's Purity.
Cloudbursts – These new cosmetics are effects that follow your character while entering the map. There are currently only two; Cerulean Spiral and Primatic Flare.
These new cosmetics are likely to receive more options as time goes on, even if choices are a bit slim with the Spellbreak 1.1 Patch.
Audio Changes
A new system for audio has been integrated into the game. It is called WWise and this is how it works:
This system supports 3D for headphones. If you select this, you'll get even more environmental clues about what is going on in the game.
The level of decay for noises at distances has been adjusted to make it more representative of the gameplay.
There have been a lot of sound changes, so you might need to re-learn audio cues for certain things.
Equipment Changes in Spellbreak 1.1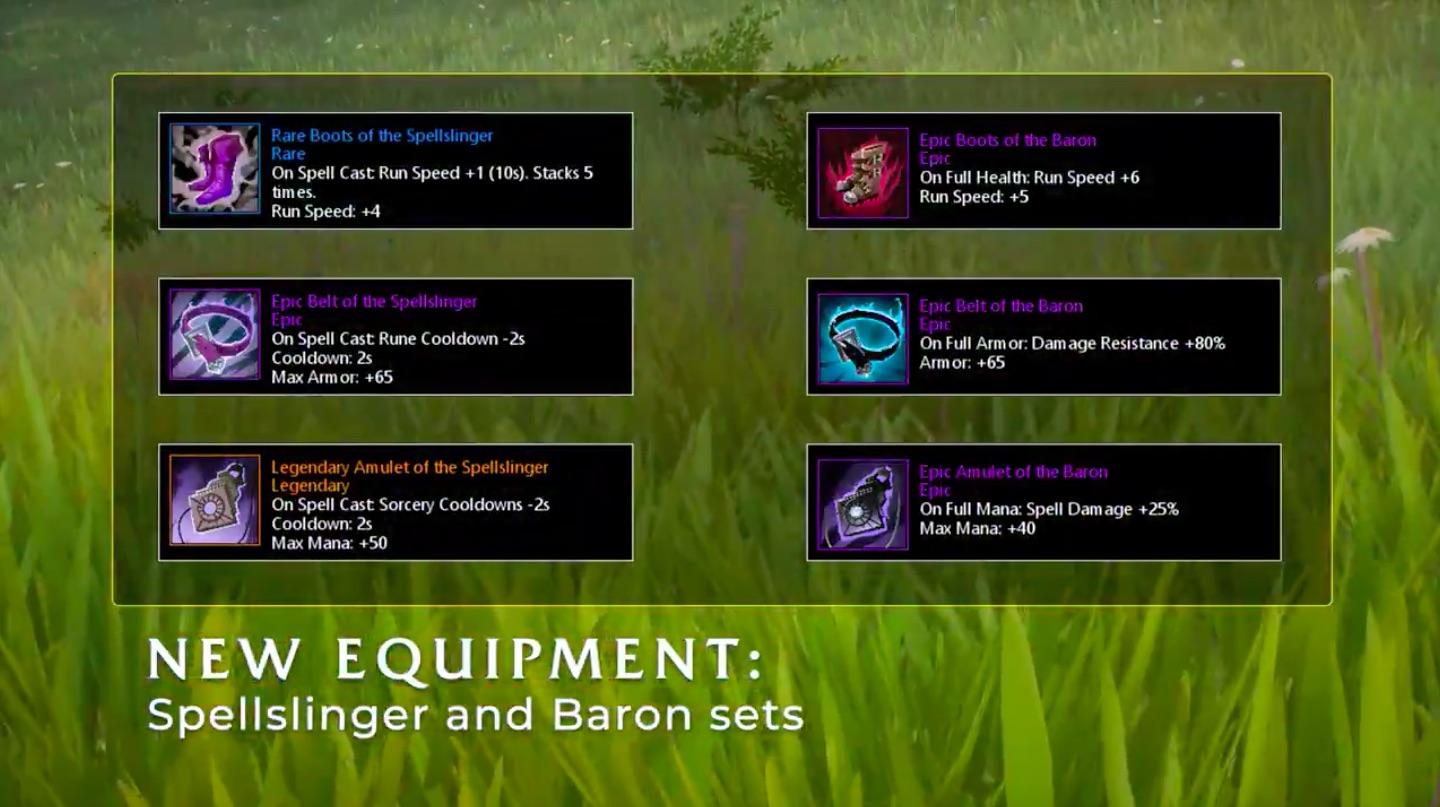 Spellbreak 1.1 brings some changes to equipment in the game, including rotating in a different set of items.
The Scribe and Mender sets are coming out of rotation for a while. The Baron and Spellslinger sets are being brought in instead.
Spellslinger Set
Rare Boots of the Spellslinger – +1 Run speed on spell cast, + 4 Run speed overall.
Epic Belt of the Spellslinger – Rune cooldown -2s on Spell cast. Cooldown for this is 2s and it boosts your max mana by 50.
Legendary Amulet of the Spellslinger – You get a 2s soccer cooldown when casting a spell and an extra 50 mana.
Baron Set
Epic Boots of the Baron – You get +6 run speed while at full health, and an additional +5 run speed overall.
Belt – Epic Belt of the Baron – +80 Damage Resistance while on full armor, and +65 armor overall.
Epic Amulet of the Baron – Spell damage +25% with full mana, and max mana +40.
Other Changes in Spellbreak V1.1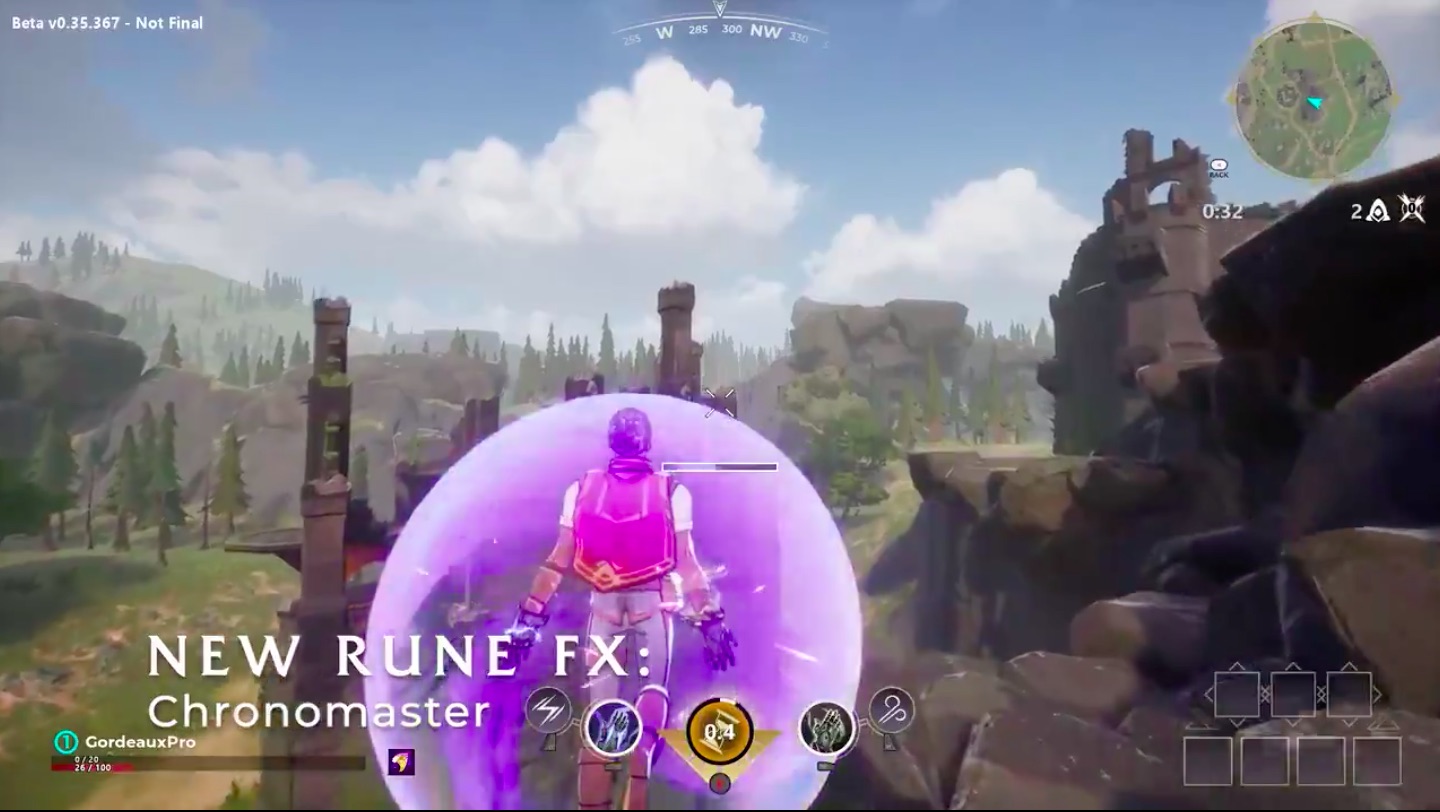 While the new content in the game is fun, the details of balancing changes are just as important for keeping playing at the highest level.
Wind Jumping
Wind Jump lowers gravity to 65%. This stays this way until you land to give you more control over movement while in the air.
Mana regeneration after windjumping has a delay of 1.25s.
Horizontal wind jumping can now go in any direction, and at a speed determined by your boots.
Shockwave
Projectile speed has been reduced by 20%
It can't travel up surfaces that players can't climb up. Although it still goes over small fences and walls.
It now travels down all surfaces.
Horizontal breaking when jumping or hovering is reduced.
Toxic Cloud
The cooldown has been increased from 10s to 15s.
Flamewall
The segments from this wall now go further down when cast. This lets you use it in a great variety of terrains effectively.
Fireball
These can't set objects on fire while traveling anymore.
Conflagration
The direction of projectile sis now more predictable.
Other Changes in Spellbreak V1.1
Spellbreak 1.1 has a few more minor changes in the game. These are the main ones that have been brought in.
UI Changes – More incremental changes have been made to the UI.
Controllers – These are now supported in more menu screens.
Pings – You can now toggle between Press and Double-Tap for a danger ping. Hopefully the first step towards greater keyboard customization.
Bug Fixes –Plenty of these.
FX – There are new FX and animations for Firefly, Chronomaster, and Disrupted players.
These are all of the changes in Spellbreak 1.1. While it is still unfinished, it's improving. The reduction is RNG is a nice change to the combat system, and the rotation of new items is going to help keep things fresh for players. While this is a small change, new content is always good.
Despite the changes, using the best Spellbreak settings is still going to give you your best opportunity to win in the game.