Octane is the first new legend to added into Apex Legends since its launch. Everyone is pretty excited to try out this brand new Legend, but there's a lot of misinformation out there about how to unlock Octane in Apex Legends. Some sources are spreading some weird information about needing to purchase the Battle Pass to unlock Octane. In actuality, Octane can be obtained for free within the game but you're going to need to work at it a little.
Now that you've spent a good amount of time in King's Canyon you're probably familiar pretty deeply with the game. You know the basics, the locations, and which loot to load up on. Now its time to apply this to a brand new Legend. Once you know how you're going to win games as this new Legend, you need access to it. Here is each way you can unlock Octane.
Getting Enough Legends Tokens to Unlock Octane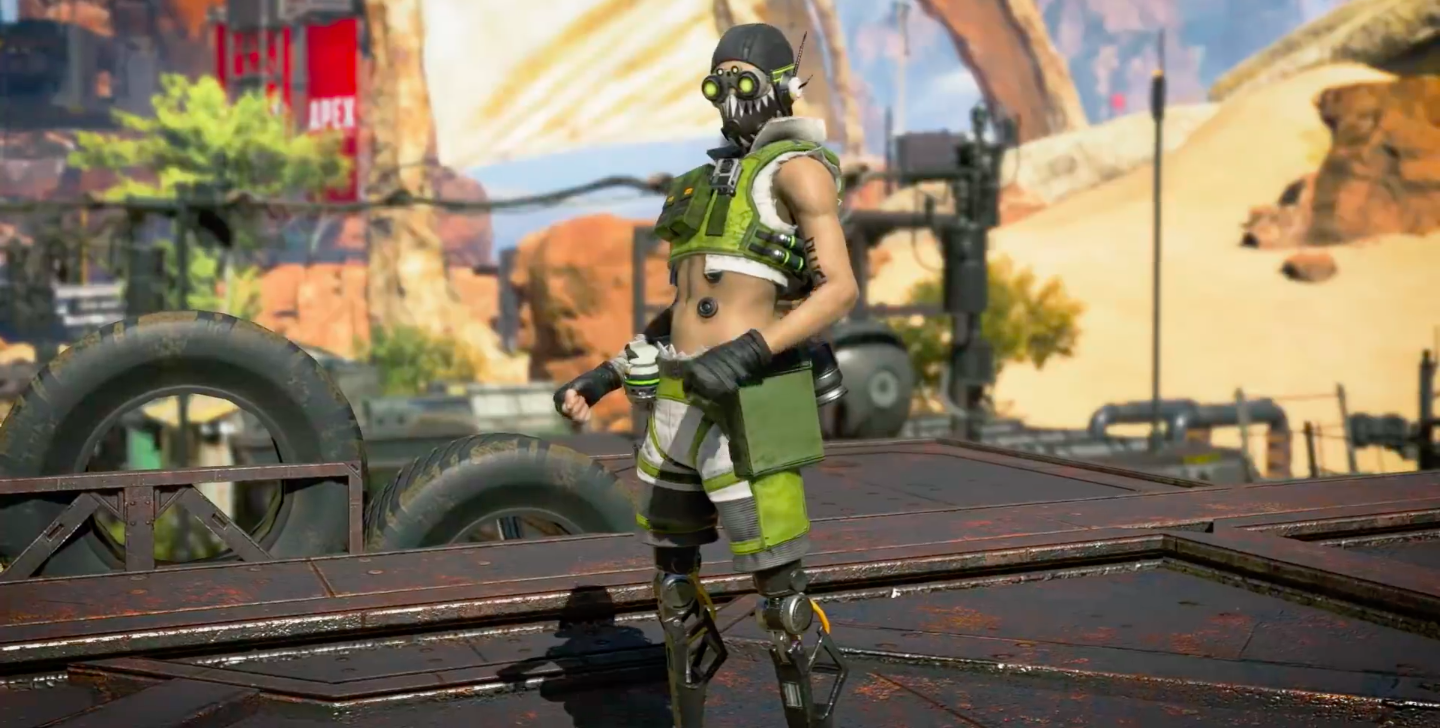 Octane is launching alongside the first Battle Pass for Apex Legends. This has lead to some players assuming this Legend is only accessible through the Battle Pass. While it might have launched at the same time, you do not unlock Octane through the Battle Pass. The Battle Pass is an entirely separate tier and purchase. Much like in Fortnite, this Battle Pass is for progression through the game. Octane will cost 12,000 Legend Tokens.
You earn Legend Tokens just by through playing the game. These tokens are handed out for progressing through the game and leveling up. You should amass these as you play enough games, but you might have spent a good number already to unlock Mirage and Caustic. If you're running low on Apex Tokens, there is one way to gain more. Play more.
That is the only way to get more Legend Tokens. To get enough tokens to unlock Caustic and Mirage, you have to progress through to Level 40 in-game. This might take a while, but once you're at that stage you won't have to spend anymore Legend Tokens on anything other than to unlock Octane. However, it might actually take you a while to amass these Legend Tokens. They're not so easy to come across. If you're the sort of player who doesn't have the time to grind your way up to Octane but still want to play as the newest character, there is another option.
Buying Legend Coins

You can flat out purchase Legend Coins to unlock Octane. Legend Coins are the premium paid currency in Apex Legends. At the moment you can use them on loot boxes, skins, and even to unlock the Battle Pass. You even use them to skip the grinding for Legend Tokens and unlock Octane right away. He will cost 750 Apex Coins, how much that is worth in real money depends on the bundle that you buy.
The smallest unit you can currently buy Apex coins in is 1,000 coins for $9.99. This will leave you with 250 spare Apex coins that aren't good for much. These little tricks are how Apex Legends incentivizes you to buy more coins. You could put these spare coins towards the Battle Pass. The Battle Pass will allow you to unlock exclusive rewards that will be unobtainable after Season 1 ends. The Battle Pass currently costs 950 Apex Coins. This also leaves you with some spare coins if you go for the smallest pack of Apex coins.
Unlocking Octane and The Battle Pass
If you want to unlock Octane and the Battle Pass, getting all of the content of Season 1, it will cost you 1,700 Apex Coins. You could get this many coins by purchasing two packs of 1,000 coins which would cost $19.98. You would then have 300 Apex Coins remaining to put towards any sort of gear outside of these items. If you spring for the package of coins above the basic tier, you can get 2,150 Apex Coins for $19.99. That is 150 extra coins for only $0.01 more. If you want to unlock Octane and the Battle Pass, either of these options can work. However, if you're planning on buying any other in-game items then the slightly higher package is better value.
Conclusion
Once you've locked Octane, he can become an alternative option when picking which legend to use. You should try and master his skills while he is still the most talking thing in Apex Legends.